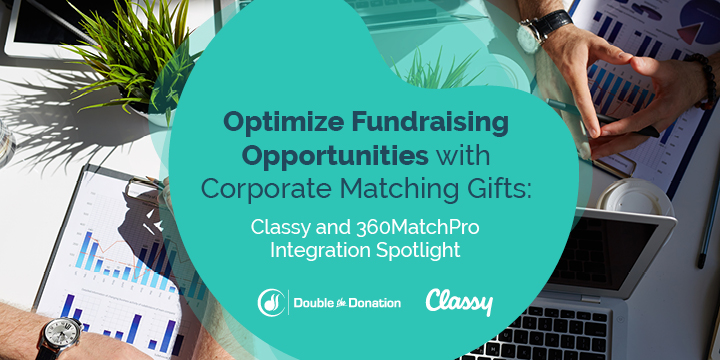 With the help of corporate matching gifts programs, donors can maximize the impact their donation has on your organization without having to reach back into their wallets. Companies that offer matching gift programs will financially match the donations of their individual employers made to charitable organizations. In spite of the fact that over 18 million individuals work for companies that offer matching gift programs, 78% of match eligible donors have no idea of their matching gift eligibility.
That's a huge discrepancy causing a lot of potential revenue for nonprofit orgs to go to waste. How can you use your Classy donation forms to drive these gift matches to completion and make the most of these incredible corporate giving programs?
The solution is integrating 360MatchPro by Double the Donation, the industry-leader in corporate matching gifts, into your Classy donation forms.
You already trust Classy when it comes to managing your fundraising campaigns with dynamic nonprofit technology, and now you can integrate your Classy donation platforms with 360MatchPro to leverage the industry's top matching gift software to boost funds for your org.
Read on to find out more about the leading matching gift solution in the nonprofit sector.

Maximize Matching Gift Revenue with Smart Technology Solutions
Matching gifts programs are widespread and yet an estimated $4-7 billion in matching gift revenue goes unclaimed every year. The primary roadblock for nonprofit orgs receiving this revenue is that many donors are unaware of their eligibility to have their gift matched.
The solution offered by the 360MatchPro and Classy integration tackles this issue head on by providing donors the opportunity to check their eligibility during the donation process, when donors feel most connected to your cause. The 360MatchPro employer search field integrates this function seamlessly into Classy donation forms – donors will see an employer search field which prompts them to enter their employer to see if their gift may be matched. Unlike other legacy matching gift integrations that require donors to sift through long lists of companies in order to find their employer, the 360MatchPro streamlined search field brings up results immediately, even accounting for spelling errors and subsidiary companies.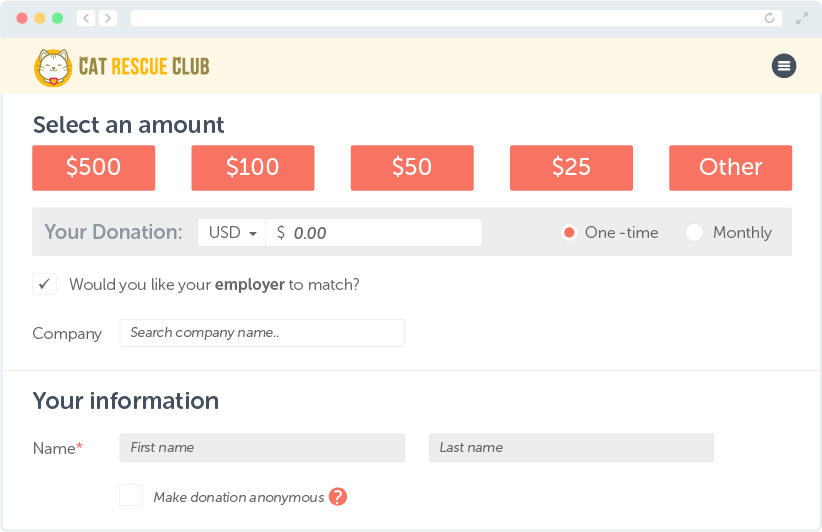 Mentioning matching gifts during the donation process can result in a 51% increase in donation amount. Empowering your organization's donation forms with this tool can increase donor awareness around matching gifts while also bolstering your org's funds. If donors are eligible for matching gifts, upon submitting their donation to your organization, they will be linked directly to their company's matching gift request forms and program guidelines.
Providing donors with simple, guided next steps right on your organization's confirmation page helps ensure that every identified opportunity for a gift to be matched is driven to successful completion.

Amp up your Outreach with Email Automation
Following-up with donors to remind them of their matching gift eligibility, and providing them next steps, is an essential part of a matching gifts strategy. However, manually tracking donor eligibility and employers, and sending emails, is time-consuming and complicated. 360MatchPro provides a solution to this issue with email automation functionality. These emails are personalized to each donor, providing direct links to their employer's matching gift request forms, to allow donors another opportunity to submit their gift for a match. Even if a donor did not enter their employer information during the donation process, an email will still be triggered that will allow them another chance to check their eligibility so that no matches are missed!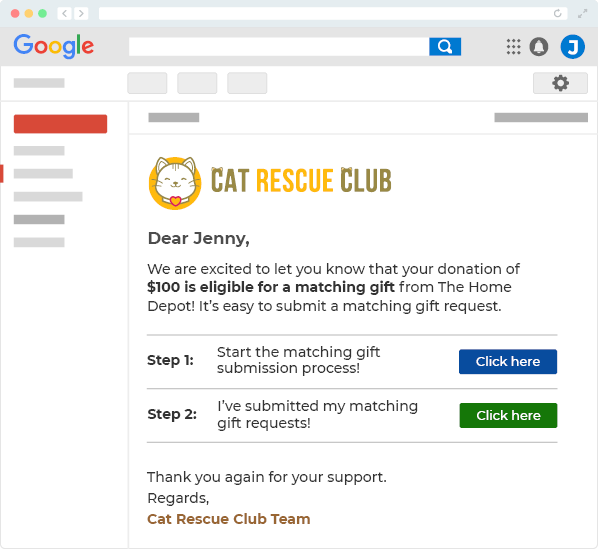 The emails are customizable, allowing for branding from your organization so that every email reaching a donor inbox will be visibly from a trusted and reliable source, your organization.

Empower your Fundraising with Data-driven Donor Insights
360MatchPro also provides state-of-the-art donor data management tools with the 360MatchPro dashboard. This tool displays data points on donor names, email addresses, employer and match eligibility status, and beyond this, provides email tracking so you can view:
Which emails have been sent to donors

What emails are scheduled for sending

Even if a donor has opened an email yet or not
These features allow for your organization to tailor your outreach to each donor to enable more targeted communications and more successful fundraising. But the functionality of the 360MatchPro dashboard doesn't stop there. These tools also track a donor's entire matching gift submission process so you can keep tabs in real-time where each donor is in the process, ensuring maximized revenue for your organization.
These tools empower your organization's matching gift strategy with the donor-driven data so that no potential matches are missed. The email and matching gift process tracking functionalities will allow your organization to send tailored gratitude messages when a donor has submitted a match, or alternatively, reminder emails if a donor has stalled at a point in the matching process. Because matching gifts rely on action from donors, tracking each step of the process is vital for success.

Revitalize your Fundraising Strategy with Tools from 360MatchPro and Classy
The 360MatchPro and Classy integration provide the resources your organization needs for successful matching gift fundraising. Donor experience is enhanced with easy-to-use, streamlined steps in the donation process, and guided next steps for matching gift request submission. Your organization is provided with tools that automate outreach, manage donor data, and track the matching gift process for each donor to minimize time-consuming manual work for your team. This solution will set up your organization for successful matching gift fundraising and bolster funds for your cause without creating strain on time or resources.
The easy-to-navigate and intuitive features of this integration include:
Imbedded technology to prompt donors to start the matching gift process on both your donation and confirmation pages

Automated and customizable engagement tools to amp up your donor email outreach

Data-driven analytics for your organization to turn insights into matched donations
---
Request a 360MatchPro demo today, and be sure to mention you use Classy when you sign up!