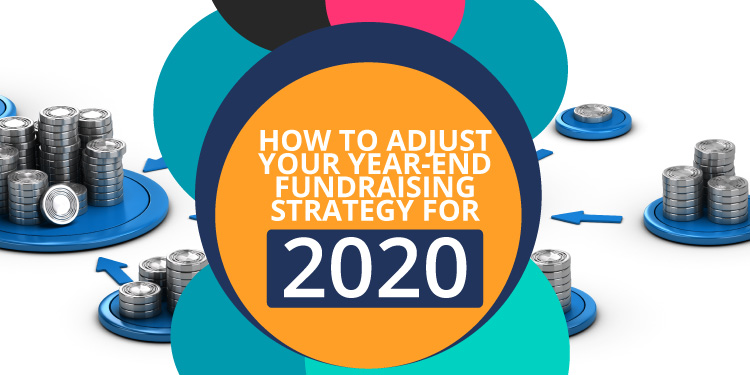 As we enter the last few months of 2020, nonprofits are gearing up for the year-end giving season. This time of the year is traditionally thought to be the pinnacle of most organizations' fundraising strategies. Donations come rolling in due to the joy and gratitude inspired by the holidays—and due to the annual New Years' deadline for tax-deductible donations.
The end of the year is so vital to fundraising that #GivingTuesday initiatives and other campaigns are often planned months in advance, sometimes even during the summer.
And for good reason—the numbers don't lie. Studies show that 30% of giving occurs at the end of the year, with 10% of total giving occurring in just the last three days of the year! Without a sound strategy in place for this key period, nonprofits could miss out on mission-critical revenue.
However, 2020 looks more than a little different from previous years. Between the economic downturn, social distancing recommendations, and general uncertainty, it's already been an unusual and challenging time for fundraising professionals. 
As the year draws to a close, it's time to adopt a new set of giving season strategies and events for the current circumstances.
At DNL OmniMedia, we help nonprofits leverage technology to boost their fundraising efforts and accelerate their missions. We've seen how data-informed decisions, new digital tools, and strategic approaches can help organizations move forward, even in the face of obstacles.
Based on these experiences, we've compiled some useful best practices for adjusting your year-end giving strategy, including: 
Use historical data to inform new goals.

Focus your efforts on online fundraising and virtual events.

Look to new sources of revenue.

Refresh your multichannel marketing strategy. 

Partner with a nonprofit tech consultant.
These tips will help you maximize the generosity of the year-end giving season and set you up for success in 2021. Let's get started!

1. Use historical data to shape your strategy
A strong foundation of data is key to any successful fundraising endeavor. Even though your typical year-end fundraising strategy will likely need some tweaking, you should still start your planning with a deep dive into historical campaign metrics and donor data.
First and foremost, this information will help your team set an achievable but ambitious goal for this year's campaign. Evaluate previous year-end goals—was your organization able to reach them? You may want to aim lower for this year's goal due to the unusual fundraising climate.
You'll also want to consult past data to determine why and how your year-end fundraising total was raised, not just the final number. Consider questions including:
Which weeks or days generally had the most successful fundraising appeals?

Which donor segments made the most or biggest donations?

What ratio of your 2018 year-end donors gave again at the end of 2019?

Which digital platforms led to the highest engagement and number of donations?
The lessons you take from this historical data can help you craft a stronger fundraising strategy for this year. However, the differences between 2020 and previous years cannot be ignored. 
For instance, if you discover that one of your most successful campaign elements last year was a meet-and-greet and tour at your facility, you won't be able to safely host the exact same event—but you could do a virtual tour instead. Instead of trying to replicate last year's efforts, focus on creatively building upon them to launch initiatives that still engage your audience remotely.
You'll also want to widen your scope of analysis beyond campaign-level data to look at your supporter base as a whole. As this guide to data management explains, "When you use your data to develop a stronger understanding of who your donors are, you can create strategies to engage your exact audience."

2. Focus your efforts on online fundraising and virtual events
Especially in recent years, online fundraising has played a large role in the year-end giving season. Now, online tools are more critical than ever before. Virtual fundraising isn't just a convenient way to engage with supporters—it's the only way.
As you put together your virtual fundraising tech stack for the months ahead, consider both how you can upgrade your current tools and pilot new innovations.
Online Fundraising
Online-only campaigns have been a big component of year-end fundraising for years now, and for good reason. Initiatives like peer-to-peer fundraisers and social media campaigns make it simple to raise money and awareness for your mission. Later in this article, we'll explore how to effectively market your online fundraising campaigns for maximum impact.
Virtual Events
If you typically close the year out with a big holiday party or fundraising dinner, you've likely already realized that in-person events like these may not be safe or feasible. A key part of adjusting your year-end fundraising strategy is pivoting these events to the virtual sphere.
Luckily, there are many powerful virtual event tools that make it possible to change nearly any in-person event to an online one. For a few examples, you might consider hosting a:
Virtual auction

Virtual conference or panel discussion

Virtual gala or dinner party
Virtual events also offer additional advantages like lower cost, increased accessibility, and wider geographic reach. Even once large groups can safely gather again, virtual events will likely stay in use because of these benefits. 

3. Look to new sources of revenue
If you're concerned that your supporter base is still reeling in the wake of this year's economic downturn, you'll want to explore new sources for year-end fundraising. Incorporate options like corporate sponsorships, grants, donor-advised funds, and matching gifts to ensure your year-end totals aren't dependent on the generosity of just a handful of major donors.
Diversifying your revenue streams is a smart strategy regardless of the circumstances. If you have multiple avenues of funding, you'll be much less vulnerable to crisis.
One easy revenue source you should try to maximize is matching gifts. With very little effort from your team, you can unlock a huge stream of funding for your organization. If you aren't familiar with matching gifts, they're a kind of corporate philanthropy in which companies "match" gifts by their employees to eligible 501(c)(3) organizations. While donations are most often matched in a 1:1 ratio, some employers may double, triple, or even quadruple the gift amount.
According to Double the Donation, many companies are expanding their matching gift programs in response to the COVID-19 crisis, so there is plenty of funding available even during the crisis.
Unfortunately, many supporters are unaware of their matching gift eligibility, leading to massive missed opportunities in revenue for nonprofits. To try and capture some of these matching gifts, you can build a search tool into your donation page or spread awareness of these programs to your supporters.

4. Refresh your multichannel marketing strategy. 
To have a successful year-end online fundraising campaign, you'll need to widen your reach to a new audience and connect deeply with your existing donors.
A thoughtful digital marketing strategy can help you engage with your audience by creating a cohesive campaign that is echoed across a variety of platforms.
Each communication channel should present a unified yet targeted message with a clear call to action. The varied components will all drive traffic to your nonprofit's website and donation page.
For a visual representation of the many communication channels involved in a nonprofit digital strategy, check out this DNL OmniMedia infographic.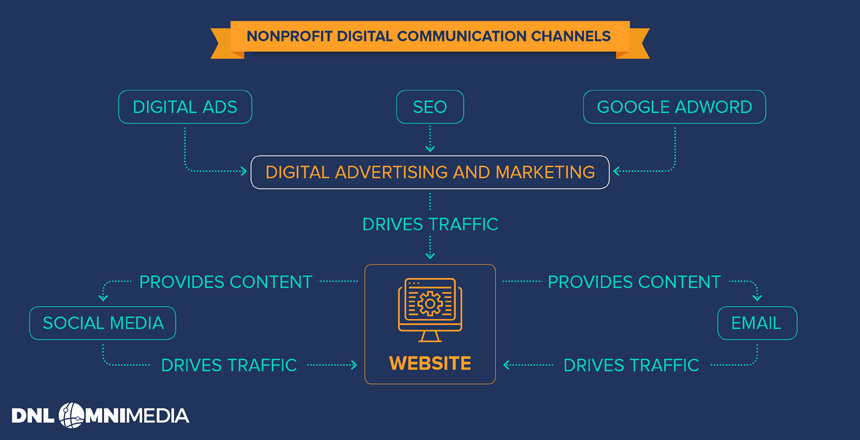 Here, you can see how digital marketing, social media marketing, and email marketing work together to create a powerful ecosystem. As you craft your year-end strategy, be sure to consider each of these elements for a comprehensive and effective approach. 
This graphic also illustrates how central your nonprofit's website will be to its success. Every marketing channel ultimately directs visitors towards your website, so you need to make sure they have a good first impression when they arrive! 
To create a positive user experience, make sure your website (and specifically, your donation page) is easy to navigate, intuitive, and mobile-friendly.

5. Partner with a nonprofit tech consultant.
If the above tips and techniques feel out of reach, you may want to look towards external help. Just as your organization sought advice and resources when the pandemic first struck, it can be beneficial to consult an expert to adjust your year-end fundraising strategy.
A nonprofit tech consultant is a particularly useful choice if you're working with robust tech solutions but don't have a dedicated tech expert on staff. Or, if you already have a tech specialist on your fundraising team, a consultant can still provide a fresh, unbiased look and valuable perspective.
At DNL OmniMedia, we've found that the following  nonprofit tech consulting services are particularly valuable for accelerating your year-end fundraising efforts:
Implementing new fundraising technology

Crafting a multichannel marketing strategy

Integrating your current software stack

Training staff on newly adopted platforms
A nonprofit consultant can strengthen your data management practices, online fundraising efforts, and overall nonprofit technology strategy.
While 2020 has undoubtedly been a challenging year for fundraising professionals, the months ahead still hold plenty of promise. By applying a data-informed and tech-forward approach to your year-end giving strategy, you'll be well-positioned for success. Good luck!
____________________________________________________________________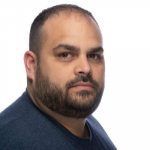 Guest Author: Carl Diesing, Managing Director of DNL OmniMedia
Carl co-founded DNL OmniMedia in 2006 and has grown the team to accommodate clients with on-going web development projects. Together DNL OmniMedia has worked with over 100 organizations to assist them with accomplishing their online goals. As Managing Director of DNL OmniMedia, Carl works with nonprofits and their technology to foster fundraising, create awareness, cure disease, and solve social issues. Carl lives in the Hudson Valley with his wife Sarah and their two children Charlie and Evelyn.