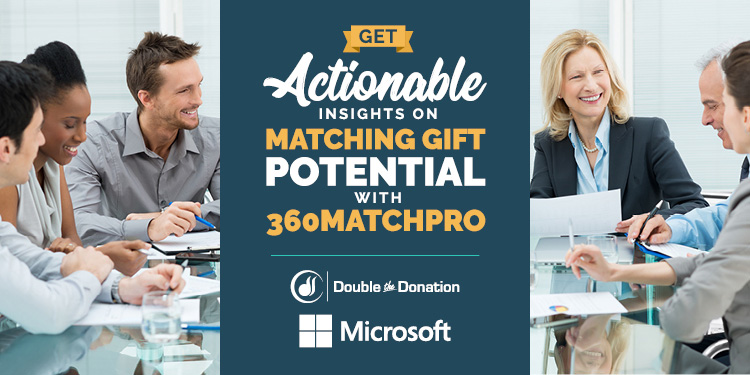 "How can my organization encourage our supporters to give more to our cause?" 
This is one of the top questions on the minds of nonprofits nationwide. How can you incentivize your supporters to give more and increase your fundraising revenue? What motivates individuals to make a donation? How can the companies they work for play a part in that giving process? Microsoft and Double the Donation offer a solution: corporate gift matching through the Microsoft Dynamics 365 integration with 360MatchPro by Double the Donation.
65% of Fortune 500 Companies and many more offer gift matching programs, and your nonprofit could see a vast increase in your fundraising revenue if your donors take advantage of those programs. The Microsoft and 360MatchPro integration provides your organization with the information and insights necessary to make informed decisions about outreach to your match eligible donors. The autocomplete search tool maps donors to the appropriate company so 360MatchPro can link them to their corresponding matching gift request form. Using the tool allows you to reimagine the way you fundraise without having to go through the trouble of facilitating the connections between donors and their employers on your own. 360MatchPro does the work for you! Here's how it works. 

Guide Donors to Follow Through on Matching Gifts
After a simple integration process, donations into your Dynamics 365 Environment will flow into your 360MatchPro account and you'll be able to see essential information about match eligibility and other insights on your donors. This empowers you to take the next step in encouraging a match!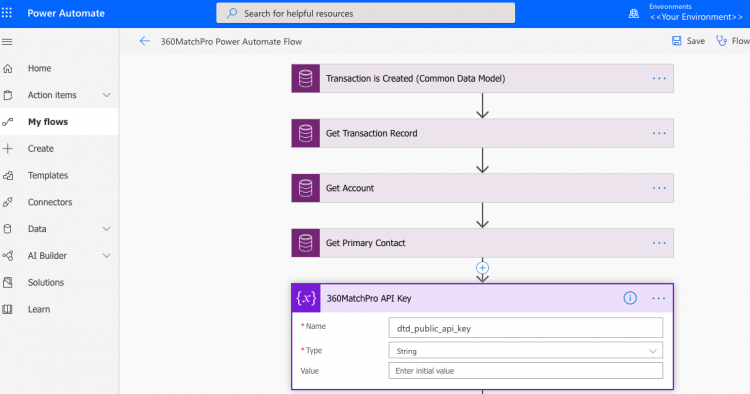 Since donors are in charge of filling out their employer's gift matching application forms, it's crucial that you encourage them to complete their matching gift request so you can see that increase in fundraising revenue. Only 7% of donors at companies with matching gift programs actually submit a matching gift request, so keeping up with your donors to make sure they follow through can make all the difference in your fundraising efforts. Luckily, the Microsoft and 360MatchPro integration offers solutions to help you move the gift matching process forward.
You already send your donors confirmation emails, so why not supplement those emails with 360MatchPro automated emails and encourage supporters to move forward with the gift matching application process? Providing your supporters with a direct opportunity to access their employer's gift matching application form means they're more likely to go ahead and submit.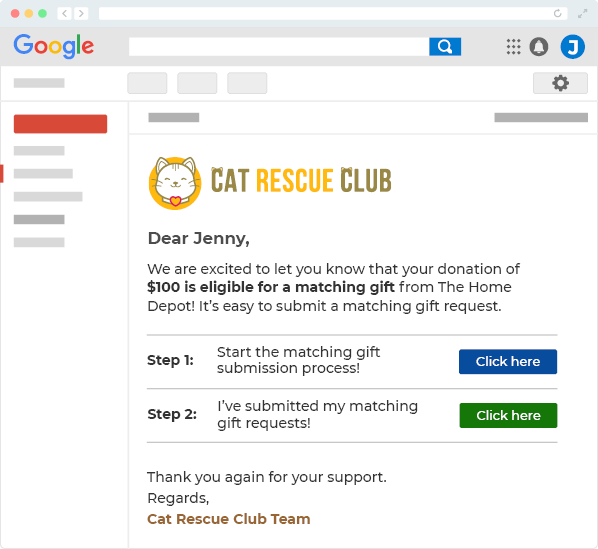 Emailing your supporters after they make an initial donation informs them that they are eligible to help their impact for your organization go further. And since $4-$7 billion in matching gift revenue gets left on the table each year, you want to make sure your message gets across! The customizable and automated offered through the integration does that work for you, and creates yet another point of contact between you and your eligible donors. 

Work Together to Reach Your Fundraising Goals
1 in 3 donors indicate they'd give a larger gift if matching is applied to their donation—inspire those donors to give more by making corporate gift matching simple.The Microsoft and 360MatchPro integration provides a gateway to increasing your fundraising revenue by helping your donors initiate the gift matching process and helping you see that process to completion.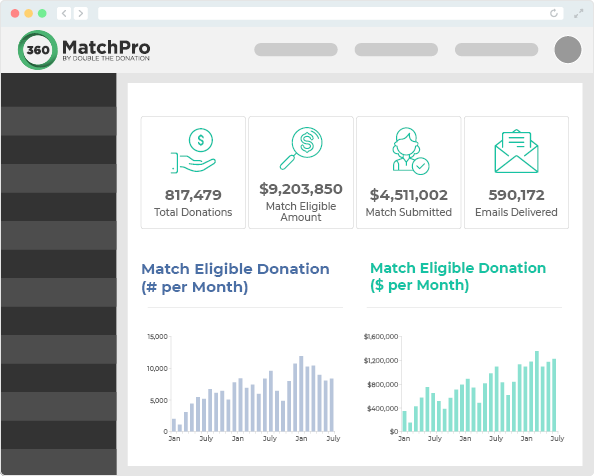 Take advantage of some of 360MatchPro's features:
Options to embed the 360MatchPro widget into both your donation page and confirmation page so that donors have multiple opportunities to start the gift matching process

Email domain identification to cultivate donors with an email address corresponding to a match eligible company 

Email customization tools to keep your branding consistent and blend with your other Salesforce-powered, donor-facing tools
Request a demo today to start your gift matching journey with Microsoft Dynamics 365 and 360MatchPro by Double the Donation.
---
Gift matching tools can increase contributions for the cause that you care about. It's a simple way to raise more money without asking donors for more dollars. 
There are many company programs, informative guides and case studies to learn from, and we've compiled a list of our favorites. If you would like to learn more, check out these websites: 
The Top 17 Matching Gift Companies: Our Favorite Picks.

This comprehensive list includes the best gift matching programs in terms of amount, ratio and usability. This article can help employees increase their donations and nonprofits increase their contributions. 

Matching Gifts: A Q&Z Guide for Nonprofit Organizations.

Get the answers to all of your gift matching questions. This article details common curiosities about the functionality and utilization of common gift matching programs. 

Corporate Giving and Matching Statistics.

Peruse these up-to-date facts to learn more about gift matching programs – and how to take advantage of them.