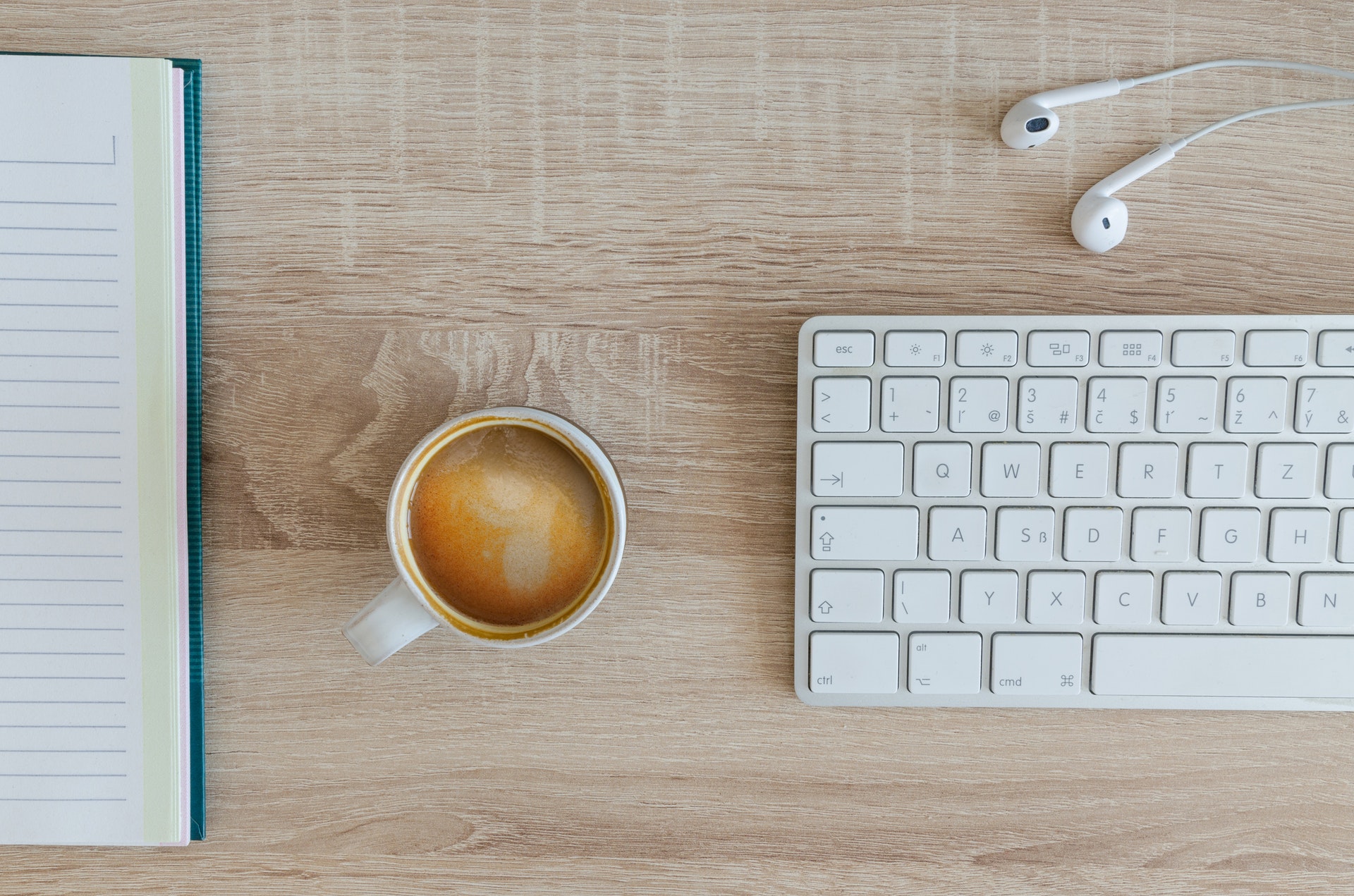 I recently did a workshop for TechSoup Canada on donation page optimization based on my experience and research (as well as the much greater experience and research from the folks at NextAfter). In addition to ripping apart attendees' donation pages (in a friendly way), I'd put up an A/B test, ask the audience to guess which page/strategy converted better, A or B, and then would reveal the winner.
More often than not the crowd got it wrong. And sometimes it wasn't even close. There was one person in particular who after he guessed wrong for about the 5th time audibly grumbled, threw up his hands, and shook his hand. He could not believe the results of these tests.
And it's not because he didn't know what he was doing. I got a bunch wrong when I participated in something similar at last year's Nonprofit Innovation Summit and I don't think I'm an idiot (please don't comment below…). At the conference, Flint McGlaughlin talked about marketing blind spots and referenced tests he and MECLABS have done where 72% of professional marketers got the test 'wrong'. Pros. Best of the best. Working day in and day out on this stuff. And about a quarter of them could predict what worked! Often, the more we know, or the more we think we know, the more confident we are and the blinder we become to what may actually be truth.
Often, the more we know, or the more we think we know, the more confident we are and the blinder we become to what may actually be the truth. What actually works. And our work, fundraising, marketing and ultimately mission achievement, suffers because of it.
This is why testing is so important!
That's why I'm a NextAfter fanboy, consume their content, and attend their conference (join me this year, use RECHARITY to save $100 too) because they are so focused on testing. And they share their tests and research with me, you, or anyone who wants to read it.
The most recent example is a template and presentation they created sharing how you can improve your nonprofit landing pagenonprofit landing page based on their rigorous testing. Here's what they came up with:
13 Proven Ways to Improve Your Nonprofit Landing Pages
Use a linear layout
Use a text-only headline; not a banner image
If you use a background image, make sure it matches your advertising
Add social proof
Write 2-3 short paragraphs of copy to convey your value proposition (if incoming traffic already has a relationship with you, you can use shorter copy)
Use a primary image, not a video, if it adds clarity or increases continuity
Avoid supporting content in-line with the main content
Add a call-to-action header and copy
Use as few form fields as possible
Group form fields together to reduce page length
Consider adding qualifying questions to increase user's expectation
For supporting content, use testimonials or endorsements
Add a privacy statement below the submit button
I strongly encourage you to watch the full presentation, download the slides, and get the template as there's a lot of research and thinking behind those 13 items (and other goodies like how to write great headlines).
A couple key things that stand out to me from their research are:
How important trust is – through social proof, testimonials/endorsements, and a privacy statement
How crucial copy is – and how poor video can be on conversion focused pages
How longer is (almost) always better – a test NextAfter has proven over and over and continues to surprise
How key design is – grouping form fields, linear layouts, and mobile first
And one more key thing that isn't explicitly mentioned in their 13 ways but is suggested and can significantly help improve conversion rates is removing the default navigation and, often, footer from these pages. All those headers, dropdowns, buttons, and conflicting calls-to-action can really distract, cause confusion, and make conversion rates dip.
So as you look to create, revise, or update your landing pages (particularly email signup pages), try to use those 13 points as a guide.
But Why Are Landing Pages So Important?
Because they are where actions should occur. Making a donation, becoming a volunteer, signing up for email, signing a petition, etc. Key actions that people want to take to support you and you want them to take to support you, online, should happen on landing pages. Not 'menu pages'.
Having a page with a menu of options is fine to solve a particular problem: when the user doesn't know what they want or are expected to do. But when the user knows what they want or is expected to do, those 'menu' pages quickly get confusing and full of friction leading to fewer people doing what they, and you, want.
Let's use NextAfter and their resources page here as an example: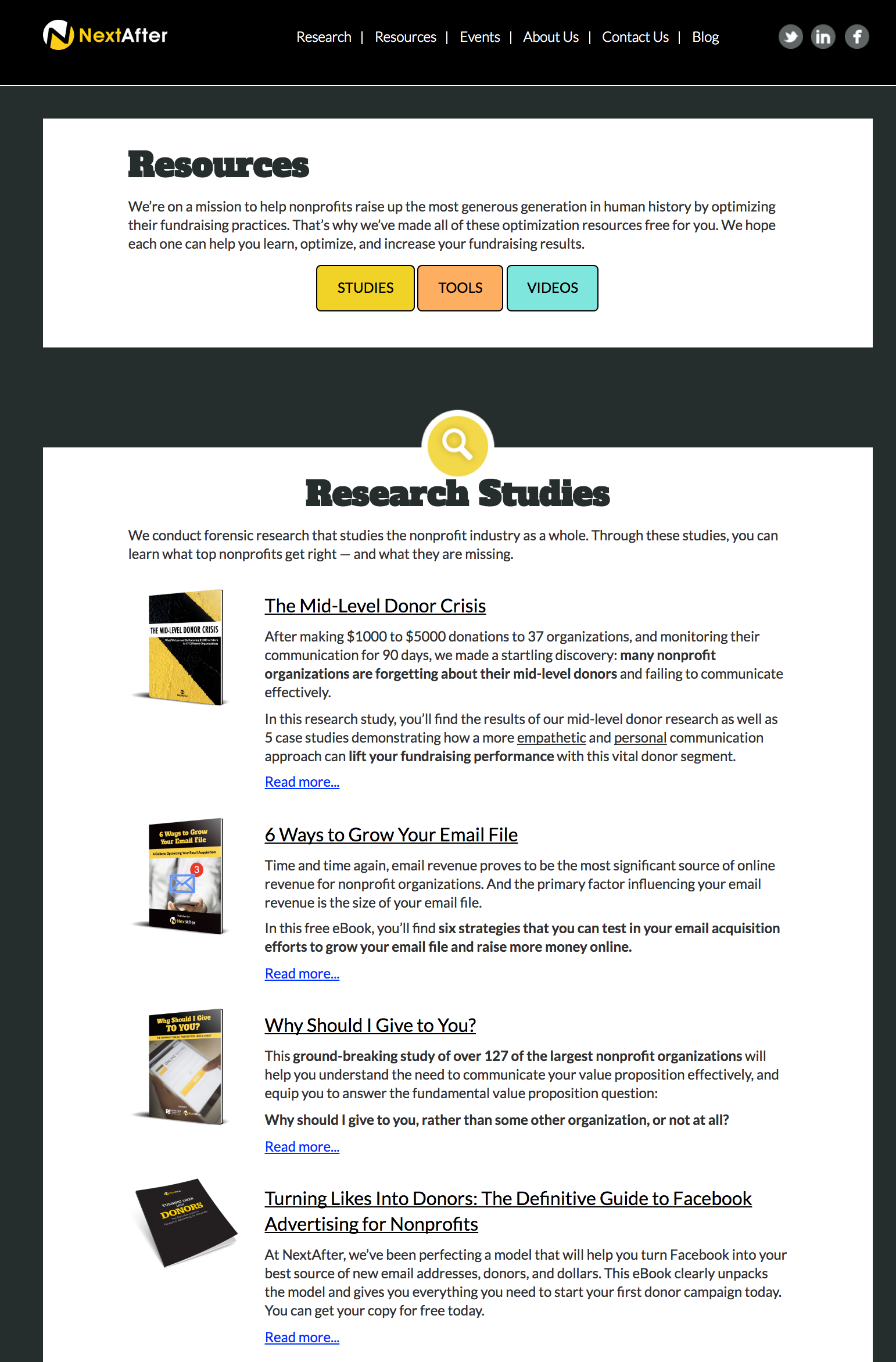 You might find your way to the resources page from the home page and you're curious. You're looking. Browsing. But when you find a resource you're really interested in, like the Mid-Level Donor Crisis, when you click you go to a page like this: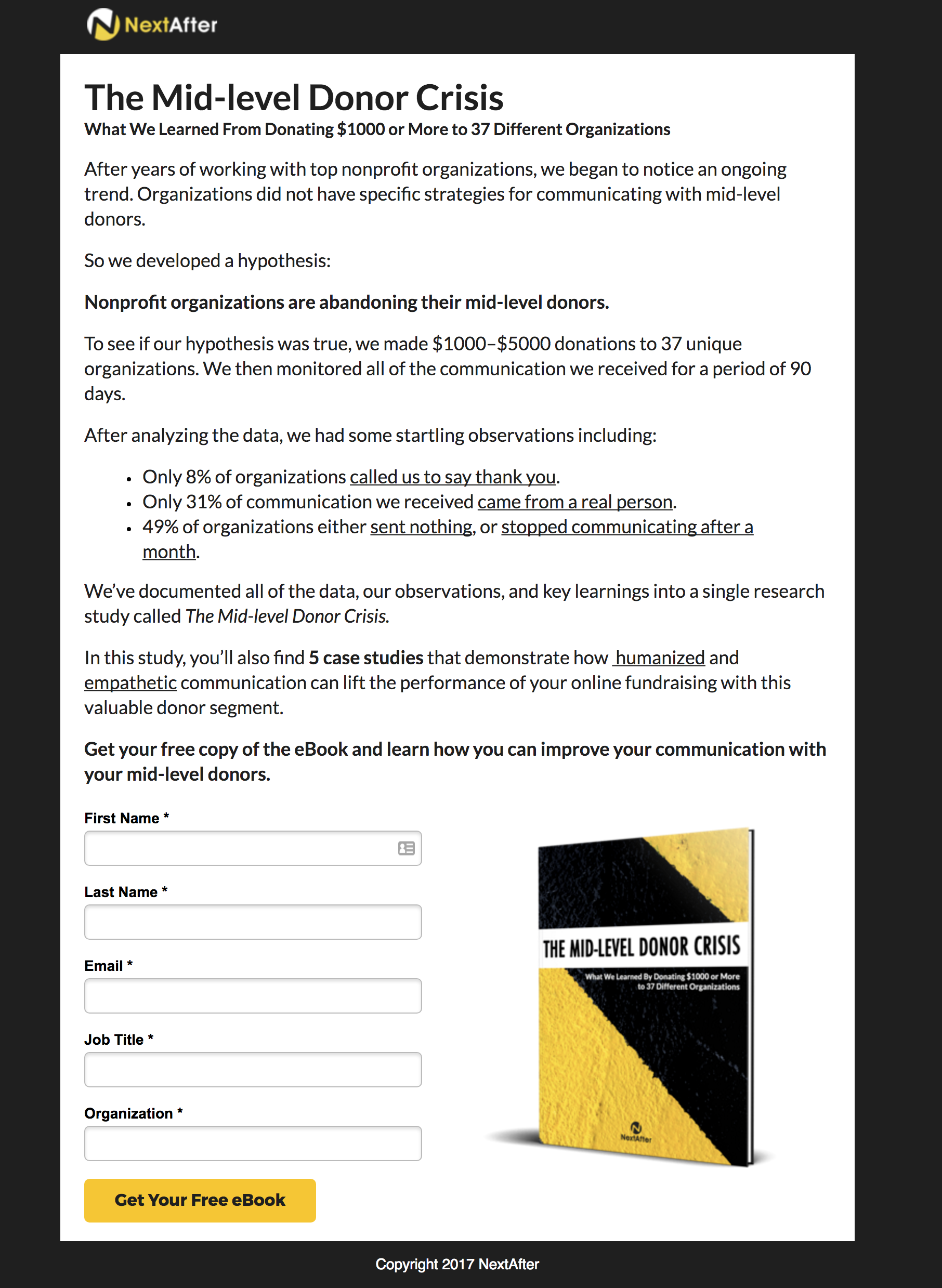 The only thing you can really do on this page is to learn more about the resource and give your email to get it. And when NextAfter drives traffic with the goal to get people to give their email in exchange for this resource, they aren't pointing to a menu page. They are pointing to this page.
Your goal, in action-focused marketing aka fundraising, is to get people to a focused landing page where they:
Have an interest and desire to take an action
Come to a page that is solely focused on that interest and desire they possess
Can complete the action in as simple and straightforward way as possible
So…
There are many ways you can raise more money online, and focusing on and improving your nonprofit landing page is certainly one of them. Use these 13 proven ways from NextAfter as a guide and try to move away from a bunch of menu pages to some menu pages that lead to great action focused pages. Oh, and test them! Good luck.
Come to the Nonprofit Innovation Summit this September
I'll be in Texas for NextAfter's NIO Summit and I hope you can come mingle with other marketing wizards and fundraising nerds. Be sure to use discount code RECHARITY to get $100 off. And if you're a Canadian – congratulations – but email me to get a super-special-North-of-the-49th-parallel-only offer for the NIO Summit. Hope to see ya'll there!