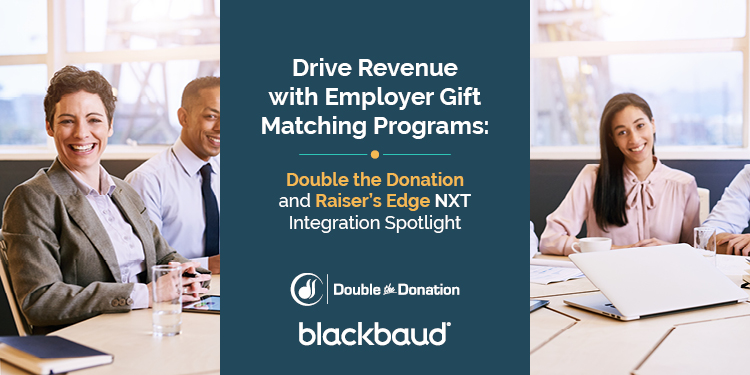 While addressing fundraising strategies, it can be difficult to know how much to ask of your donors. Should you keep asking them for higher contributions? Or a recurring monthly gift? What if you could increase your donations without having to ask your donors for more of their own dollars?
That's exactly what occurs when you take advantage of company gift matching. Gift matching programs are one of the most lucrative fundraising strategies, yet very few organizations actually utilize them. In fact, it is estimated that $4 to $7 billion go unclaimed in matching gifts each year. Imagine what your nonprofit could do with all of that extra cash!
Luckily, Raiser's Edge NXT is integrated with the industry-leading gift matching software, 360MatchPro by Double the Donation. That means that you can educate your donors about their own gift matching programs, and then help them drive those donations to completion. This results in more funds for your organization without any extra effort.
Ready to learn more? Let's get started.
Sync Your Systems to Identify Gift Matching Opportunities
The Raiser's Edge NXT and 360MatchPro integration identifies match eligible donors through automated outreach. To do this, the two systems seamlessly integrate donation information, making it easy for your gift records to exist within both systems.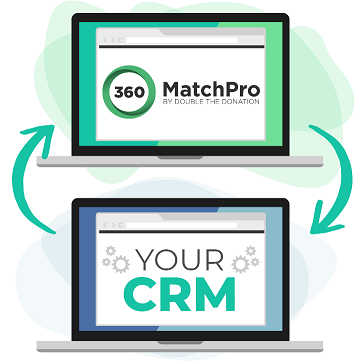 Once a donor makes a donation, it will be sent to your RE NXT platform as usual. Then, every 30 minutes, gift records will automatically flow into 360MatchPro. This information will be used to trigger automated outreach emails that identify match eligible donors and drive their matches to completion.
The information from the gift matching process will actually then flow back into your RE NXT platform. This allows your CRM to store all important donor information, such as your donors' employers, matching programs and gift submissions.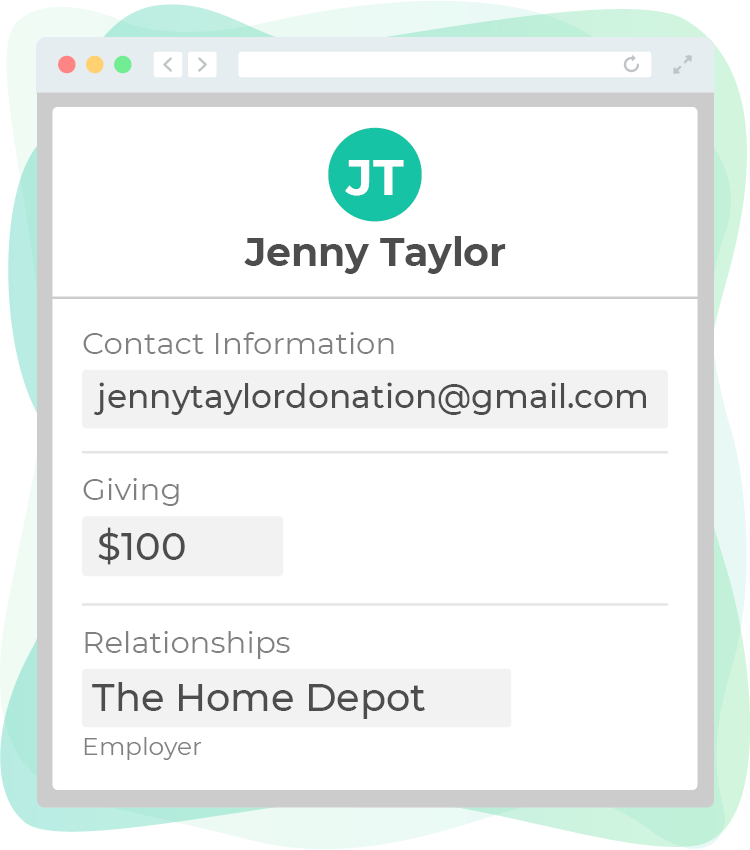 Since these insights flow through both systems, your team can keep track of donor information and easily plan future outreach and fundraising initiatives

Automate Outreach for Increased Contributions
After the donor's information flows through 360MatchPro, it will send an automated message to the email address provided. This message explains gift matching opportunities and how to take advantage of them.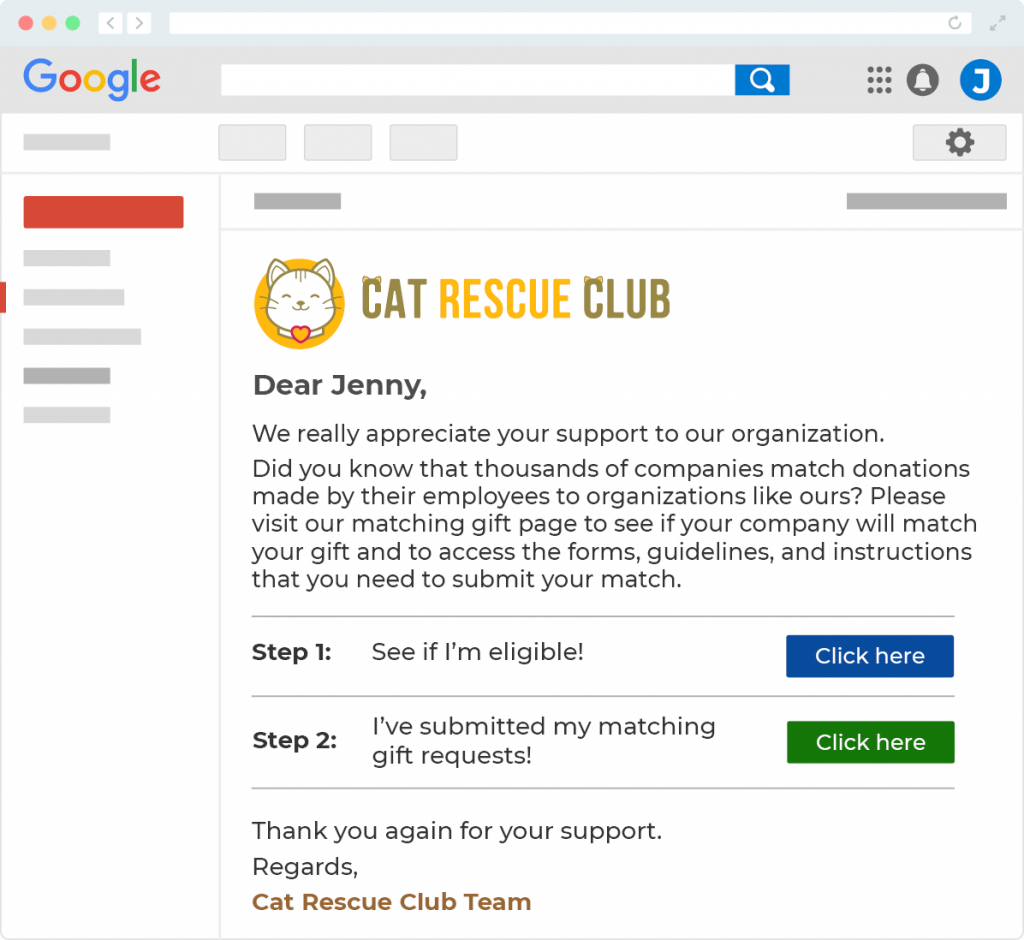 The easy-to-read format makes it simple for the donor to check their gift matching eligibility and drive their match to completion. This messaging is important because mentioning matching gifts in fundraising appeals actually results in a 71% increase in response rate, meaning your donors will be more likely to not only open this email, but to also take gift matching action.
This email can be customized with your logo, images and text. This allows you to retain your organization's unique voice and control donor outreach. You can even choose which email address this message is sent from so that your donor recognizes the sender as a part of your organization.
The donor will see an option on this email to check their gift matching eligibility. When they select this button, they will be taken to a gift matching page with a streamlined search tool where they can type in the name of their employer. A list of suggested donors will drop down, making it quick and easy for the donor to check their gift matching eligibility. This page will also present an option to navigate to the donor's employer gift matching form and drive their request to completion.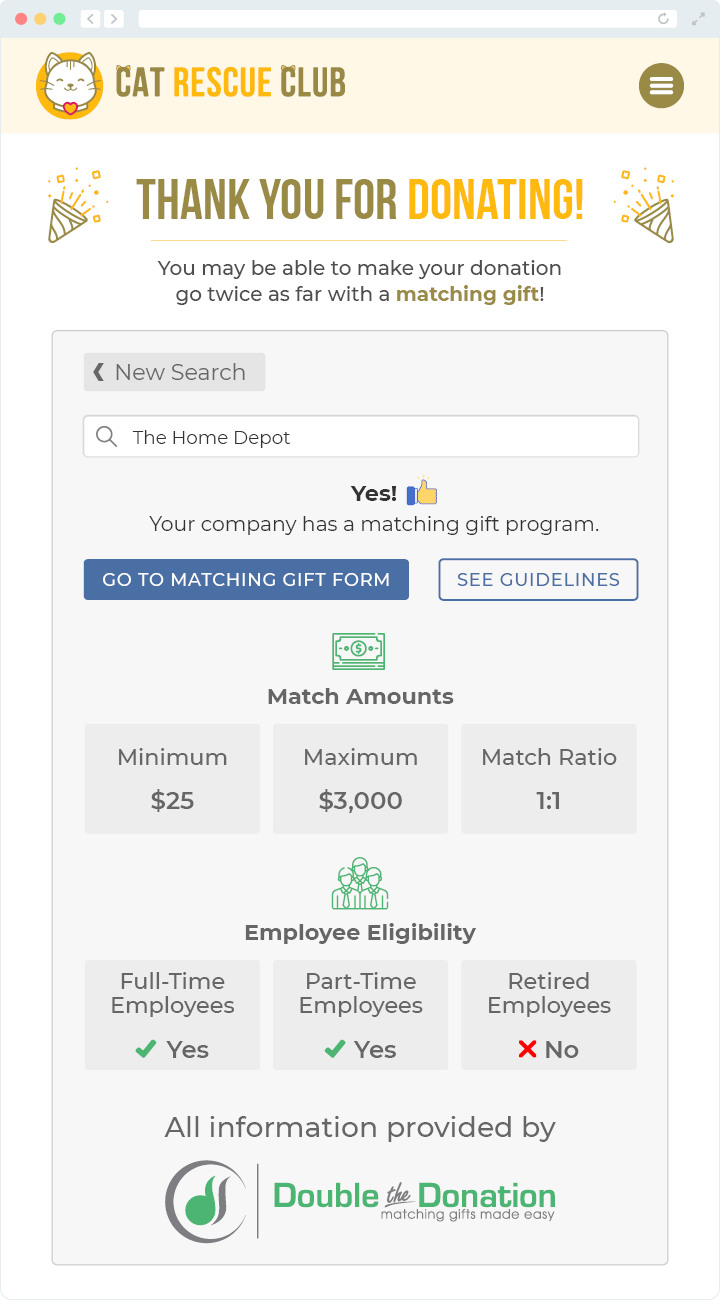 The gift matching page provides detailed information on each employer's program including match amounts, eligibility and the submission process. This information comes from Double the Donation's extensive database of matching programs. The database is regularly updated to ensure accurate company matching information.
You can also configure automated follow-up emails to remind the donor of their potential gift matching eligibility. These outreach initiatives will not only identify match-eligible recipients, but it will also educate donors about gift matching and encourage them to complete matching requests for your organization.

Analyze Insights for Future Initiatives
Each aspect of this process can be configured from your 360MatchPro dashboard. This page allows you to customize emails, organize donor information and track valuable insights. These insights may include your gift matching rates, donor response tendencies and more.
These metrics can help you plan future outreach initiatives. For example, if one of your donors works for the Home Depot, you could see that she donated, then received the automated email, opened it and submitted her gift matching request. From your 360MatchPro dashboard, you can access this information and create an automated yet personalized message thanking her for submitting the Home Depot matching gift request.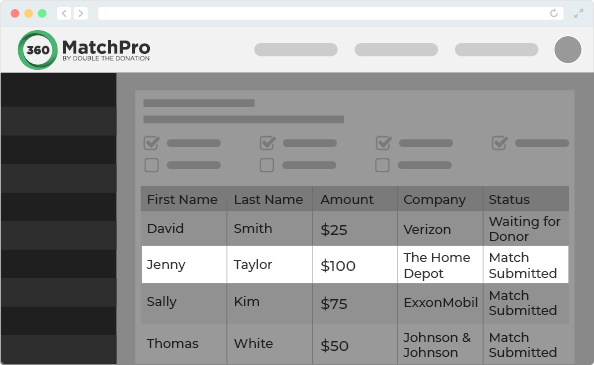 This dashboard is both detailed and easy to navigate. It allows you to track the status of donations in real time, meaning you can see which emails have been sent to a donor, whether they have been opened and where the donor is in the gift matching process.
The initiatives planned by these insights can help your organization leverage greater outreach efforts and drive more matching gift requests to completion.

Important Resources to Drive Donations
This gift matching automation tool can help double or triple an organization's matching gift revenue. The setup is simple, and it provides easy resources to help donors take advantage of unclaimed revenue for your organization.
360MatchPro and Raiser's Edge NXT have many great features:
Data and Analytics: Both 360MatchPro and RE NXT recognize the importance of data storage and analysis. RE NXT already provides you with custom information reports, and now you can use the 360MatchPro dashboard to view comprehensive charts and statistics on donor engagement.
Automated Engagement: Your donors are important to you. That's why RE NXT and 360MatchPro allow you to use automated and targeted donor engagement to enhance external communication. With 360MatchPro you can customize the frequency and logic while also tracking metrics, segmenting donors and managing subscriptions.
Branding and Customization: 360MatchPro allows you to design all aspects of your messaging. This means that all donor communication will be designed by your organization, and all emails will come from your organization's email addresses, not a third party that your donor doesn't recognize.
Check out the 360MatchPro page to learn more about getting started!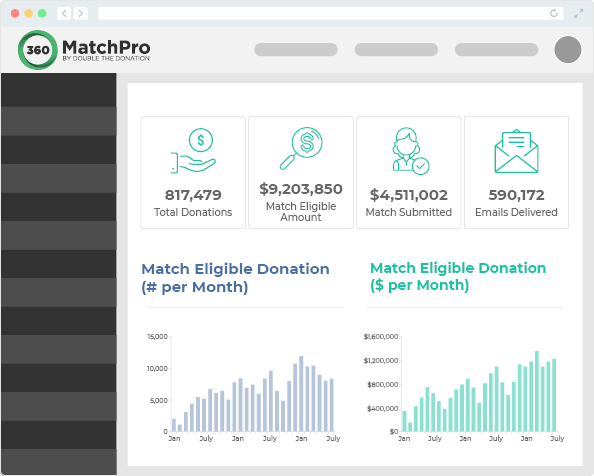 The 360MatchPro dashboard contains valuable information and resources for your organization. The homepage provides highly visual and useful metrics to display your gift matching stats.
These insights can help plan future initiatives and educate your team about the gift matching process for your specific donors.
---
360MatchPro is a great way to help your organization increase donation revenue. This simple yet powerful process is sure to fuel your fundraising efforts.
There are always more fundraising strategies to discover. Check out these resources below: