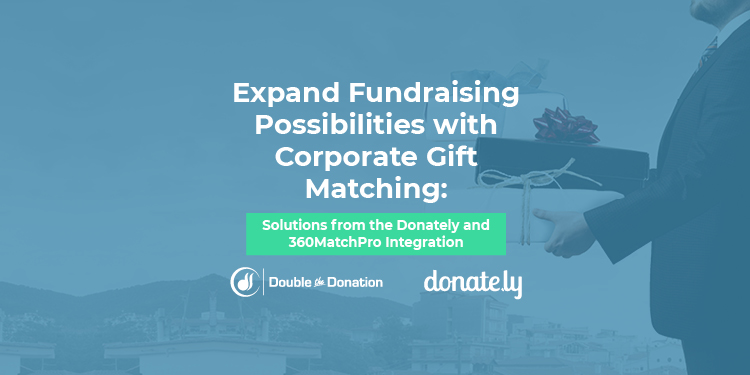 Corporate gift matching programs exist to support organizations like yours in advancing their goals and doing more good, and yet an estimated four to seven billion dollars in gift matching revenue go unclaimed each year. The resources are out there, so why aren't they reaching your organization? Don't continue to miss out on the most underutilized source of revenue in the nonprofit sector -take full advantage of the power of employer matching gift programs with automated matching gift software. Donately has a seamless integration with the leading solution, 360MatchPro by Double the Donation to get your organization started with making the most of matching gifts. 
Corporate matching gifts can double, even triple, your matching gift revenue, but all too often roadblocks prevent matching gifts from being made. Many donors are unaware of their eligibility status, and with many nonprofits organizations facing strains on their time and resources, manually informing donors about employer gift matching is too time-consuming and costly. 
The Donately and 360MatchPro software integration is designed to multiply your fundraising dollars while simplifying your fundraising process. You already trust Donately to streamline and support your online donation operations, and now they've teamed up with Double the Donation, the industry-leading corporate matching gift software, to bring you the tools to take your fundraising to the next level with matching gifts.
Read on to discover how this gift matching solution will do the heavy-lifting for you to ramp up your revenue!

Propel your Mission Forward with More Funds from Matching Gift Technology
360MatchPro imbeds seamlessly with Donately's software to incorporate matching gifts into your fundraising process and target donors when they feel most connected to your organization's mission, during the donation process. 360MatchPro allows donors to enter their employer or workplace directly into your donation form, then Double the Donation's powerful database determines your donor's matching gift eligibility.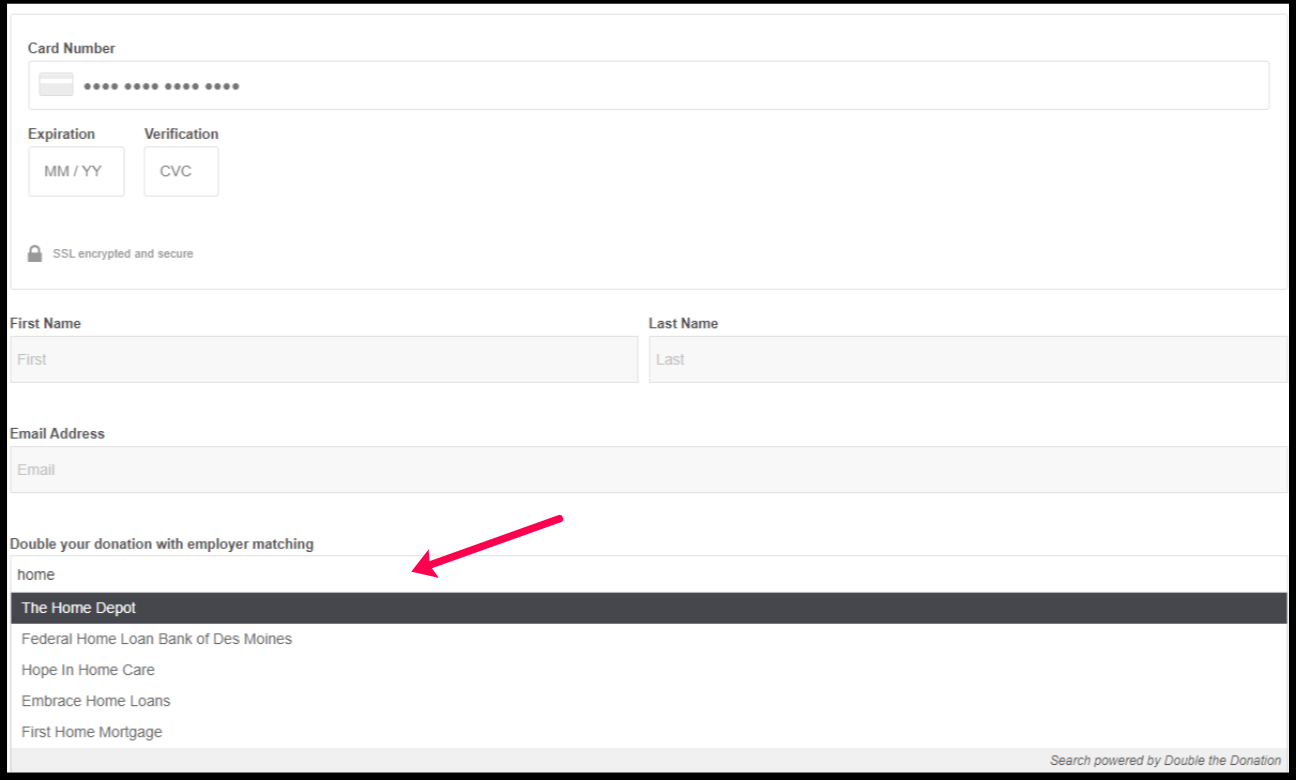 The streamlined employer search tool takes into account spelling variations and parent companies to ensure that each and every donor is directed with ease to the correct matching gift submission form. Because donor experience is a top priority, the donor will always see a brief explanation for the employer entry field to clarify its purpose so they feel comfortable and even excited to enter their employment information (1 in 3 donors indicate they would give a larger gift if matching is applied to their donation!)
Once your donor reaches the confirmation page, they'll see information about their employer's matching gift policy, as well as actionable next steps to complete their matching gift request. An automated prompt will provide the donor with a direct link to their company website to complete the appropriate gift matching forms for their employer – meaning they can begin the process with just one click!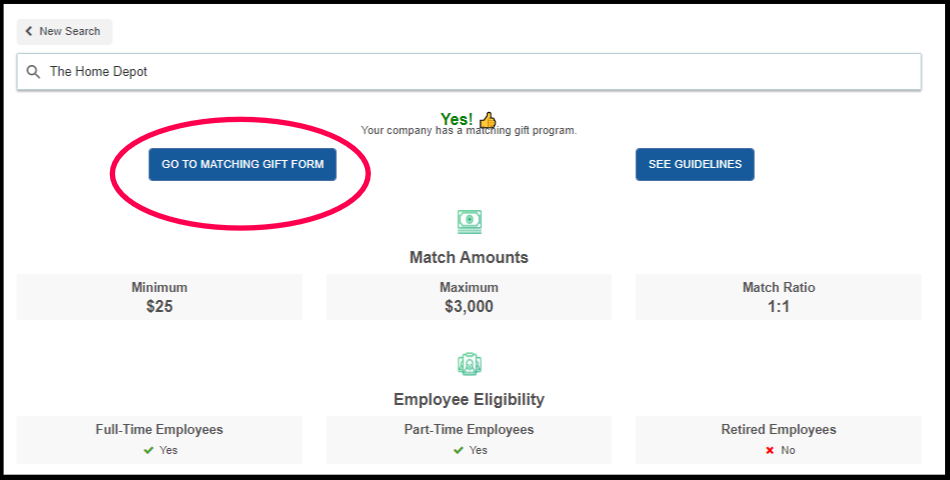 360MatchPro technology makes this process as simple as possible so all donors have to do is fill out your donation form to be automatically directed to their employer's site to submit a matching gift request in order to double their donation.

Advance Communications Outreach to Drive Matches to Completion
The Donately and 360MatchPro integration goes beyond initial steps included in donation forms to maximize fundraising profit; with this software integration your organization can send customized, automated emails to donors that include a link to directly submit a matching gift request. This function serves as an additional touchpoint for donors who did not use the tool on the donation form or confirmation page. These emails are personalized to each donor by pulling their employer data entered on the donation form, and even if a donor did not enter their employer information the email will still be triggered to maximize outreach and supply donors with another chance to double their donation!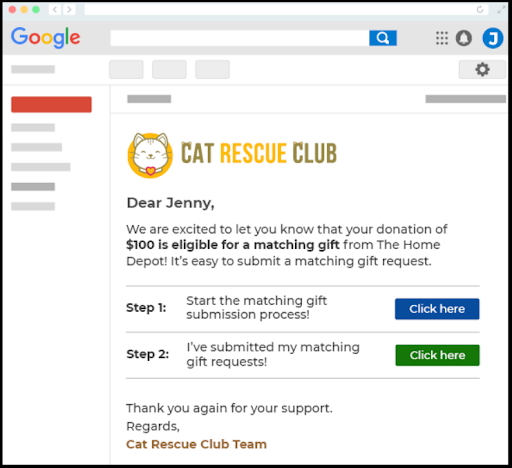 Donately and Double the Donation know that brand representation matters. That's why this integration puts communications in your control, allowing for customization that reflects your organization's values and best serves your donor base.

Track Data-Driven Donor Insights to Sustain Success
360MatchPro collects and organizes data on donor names, email addresses, employer and match eligibility status, and also provides data on which emails have been sent to donors, what emails are scheduled for sending, and even if a donor has opened an email yet or not. Features like the email status tracking will allow your organization to plan targeted outreach, tailored to each specific donor by tracking exactly which communications have reached the donor or not. But 360MatchPro's data functionality doesn't stop there, the entire matching gift submission process can also be tracked and managed all from your 360MatchPro dashboard. You can keep tabs on each donor's matching gift application process in real-time to ensure your revenue is maximized.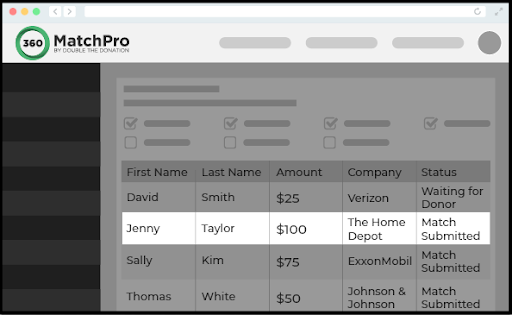 These tools create new insights that allow your organization to more effectively plan future communication strategy, and create more personalized communication strategy to execute now. For example, the process tracking function will allow you to automate personalized gratitude messages when a donor submits a matching gift form to their employer, or alternatively a personalized reminder if their matching gift form is incomplete.

Revamp your Fundraising Strategy with Resources from the Donately and 360MatchPro Integration
Donately and 360MatchPro softwares are designed with both you and your donors in mind. This integration enhances donor experience by simplifying an often otherwise confusing process by providing donors with all the tools and information they need to submit a matching gift request without having to manually navigate away from your site – a step in the process where many organizations may lose a potential matching gift completion. This ultimately boosts your organization's revenue by driving the matching gift process to completion through automated messaging and prompts that reduce hassle for both you and your donors.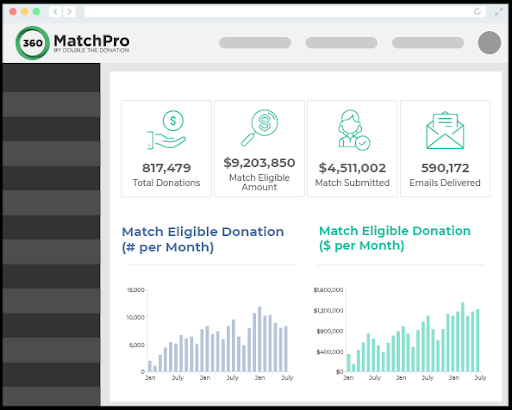 The easy-to-navigate and intuitive features of this integration include:
Imbedded technology to prompt donors to start the matching gift process on both your donation and confirmation pages

Automated and customizable engagement tools to amp up your donor communications outreach

Data-driven analytics for your organization to turn insights into donations and deeper relationships with donors
Check out more about getting started with 360MatchPro here!
---
Interested in learning more about corporate gift matching? For more information, explore these resources: