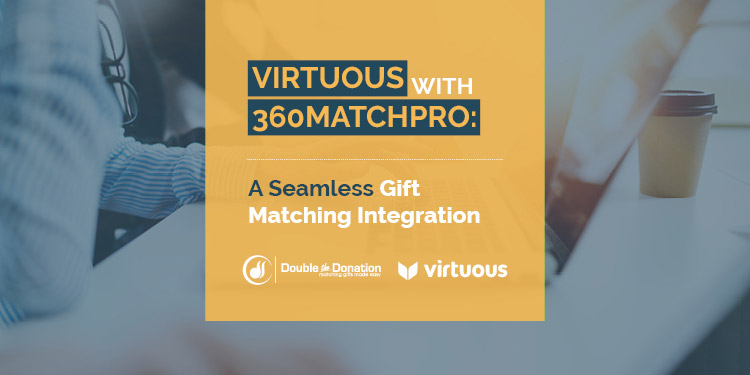 According to Double the Donation, almost 80 percent of match-eligible donors have no idea that their company offers a gift matching program. If these match-eligible donors do not pursue their gift matching program, then the potential contributions are often lost. This means that your organization could be missing out on a lot of gift matching potential. Luckily 360MatchPro works to identify these donors and complete their contributions. 
You already know Virtuous for its simple and responsive interface, but this software integration will give you a new reason to love this system. Virtuous can now be integrated with 360MatchPro by Double the Donation, the industry's leading gift matching platform. 
Taking advantage of employee gift matching programs creates more revenue for your organization without asking for more dollars from your donors. The best part is that it can be integrated with just one click. 
Wondering how it works? Follow along for the step by step process. 

The Donation Process that Drives Revenue
On your Virtuous Marketing donation forms, donors will enter their usual information while making a contribution. The 360MatchPro integration will ask the donor to input their employer. Users can easily type their company's name into the search bar. The software will then use its extensive database to analyze different matching gift options associated with that employer. The streamlined search bar lists company suggests to keep the donors moving quickly through the donation process. 
The donation page explains that the donor might be eligible for gift matching contributions. Including this explanation is important. In fact, it can encourage your donor to contribute more money. Research has shown that mentioning gift matching programs can result in 51 percent increase in average donation amount. This short gift matching description is another simple way to increase your donation power. 

If you only use Virtuous CRM, don't sweat it. 360MatchPro is still a solution for you. Just request the Virtuous client success team to activate the integration for you, and your new transactions from Virtuous CRM will automatically update into 360MatchPro for matching gift identification and communication.

Communication Strategies to Empower Donors
Once a donor has been identified as eligible, they will be notified through email. We know how important it is to maintain your organization's branding, so this email is completely customizable. You get to choose how it looks and sounds so that your organization does not lose its distinct voice. 
This automated email will communicate the donor's gift matching options. It will also instruct them how to proceed with their contribution to ensure that their donation reaches its maximum potential.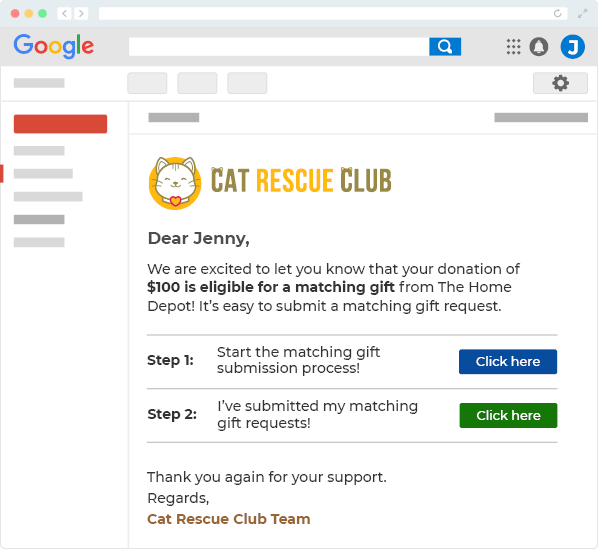 This email will also provide important information about the company gift matching program. These details will give the donors confidence in their contribution and help them to understand how much their donation has increased. This section includes program guidelines, the gift matching ratio and more.

Collecting Data for Future Insights
Once this email has been sent, it is important to retain important insights from the donation process. Luckily, 360MatchPro makes that information easily available. The dashboard page contains donor name, company and donation status. This page also shows how many emails have been sent to the donor, allowing you to control communication outreach. 
These tools are a great way to engage donors after the donation process. For example, if Jenny from Home Depot made a contribution, you could easily see if she opened her email and completed the gift matching process. Then you could send follow-up emails thanking her for the contribution and providing more information about her company's matching gift program. Engaging with donors is important, and this donor data allows you to tailor personalized messages to convey your recognition for individual donors – all while using a simple, automated system.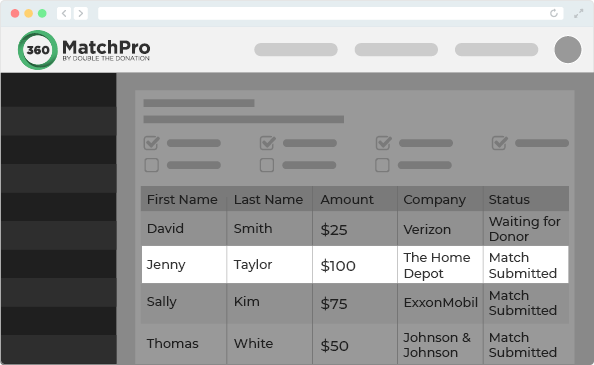 This page also allows you to sort donor information, making it easy to discern needed data for your organization. Donors can be sorted by their stage in the donation process or their match eligibility. This can make targeted communication quicker and easier. For example, if you sort your donors into a "match eligible and incomplete donation" category, you can create an automated yet personalized message reiterating their increased contribution power and asking to consider using their gift matching program.

Valuable Tools to Enhance the Gift Matching Process
The simple process above could potentially double your donation power! 360MatchPro uses automated identification to drive matches to completion, all while collecting insightful data to improve outreach techniques. These features are all available through the Virtuous integration so that all of your favorite tools are in the same place. The integration has a quick and easy setup, so you can start increasing donation power right away. 
360MatchPro has form-level settings, so its functionality can be added or removed from individual donation forms. This gives you the power to use the 360MatchPro services exactly how you would like. If you use the Virtuous CRM, then you can activate the software globally across all of your giving forms for an even faster set up. The Virtuous and 360MatchPro integration makes it easy to take your fundraising efforts to the next level. 
There are always more tools to discover. The features below are important aspects of 360MatchPro, and they will help enhance your gift matching experience. 
Automated Communication

– Both Virtuous and 360MatchPro recognize that automation makes communication much easier. 360MatchPro allows you to send automated emails based on customizable templates and information. That way you can easily contact donors with messaging that appears personalized. 

Identification Tools

– 360MatchPro uses embedded widgets to capture important donor information. These identification tools allow you to learn more about your supporters, making it easier to connect with them. That way you can tailor messaging to specifically match their needs.  

Branding and Customization

– 360MatchPro allows you to design all aspects of your messaging. This means that all donor communication will be designed by your organization, and all emails will come from your organization's email addresses, not a third party that your donor doesn't recognize. 
Check out 360MatchPro's website to learn more about getting started.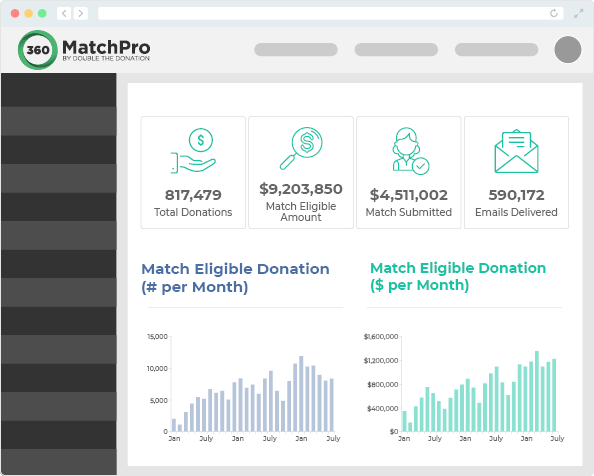 The 360MatchPro dashboard demonstrates all of these features and more. It also stores your gift matching stats, so you can quickly check out your total donations, match eligible value, gift matches submitted and emails delivered. These statistics can demonstrate which companies provide the best gift matching so that you may further tailor your ongoing outreach campaigns by targeting donors with the greatest contribution power. 
---
Utilizing gift matching tools is a great way to increase fundraising without extra work. Plus, it can make donors feel that their contribution is engaging and valuable!
Gift matching has many aspects, and each one has its own benefits. Understanding this process can help you utilize these facets and maximize your fundraising practices. 
Check out these resources to learn more.