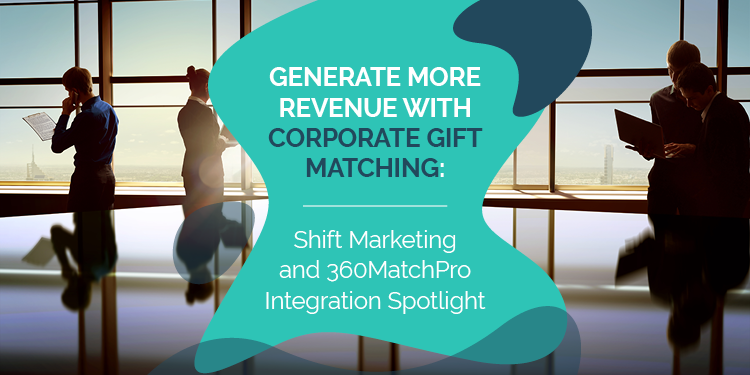 Corporate gift matching is a valuable tool for nonprofits everywhere to drive revenue and increase their fundraising capacity. In fact, roughly 2 to 3 billion dollars are donated through matching gifts annually, and yet despite this giant industry nonprofits are still leaving donations on the table by underutilizing corporate gift matching programs.
The unfortunate reality is that most donors are unaware of the matching gifts process. Some donors do not even know whether or not their employer offers a matching gift program even though over 18 million individuals work for companies that have matching gift programs. Lack of donor awareness about the power of corporate gift matching leads to only 1.31% of individual contributions being matched at the average nonprofit organization. By not utilizing corporate gift matching, your organization is missing out on all that revenue potential.
This is why the integration between Shift Marketing and 360MatchPro by Double the Donation can be a game changer for your organization. Shift Marketing already helps you build effective giving pages. And with their extensive repertoire of communication methods, tracking, and analytics, their platform is setting you up for success. And now by integrating with 360MatchPro by Double the Donation, Shift Marketing allows your organization to take full advantage of corporate gift matching.
360MatchPro uses Double the Donation's matching gift database of over 20,000 companies to identify match-eligible donors and drive those matches to completion. 360MatchPro allows you to educate your donors about the gift matching process right on the donation page, meaning your organization can take full advantage of corporate gift matching.
Read on to find out just what the Shift Marketing and 360MatchPro Integration can do for you!

Maximize Donor Impact with Gift Matching Awareness
By integrating 360MatchPro by Double the Donation directly into Shift Marketing's giving pages, donors will be able to identify whether or not they are match eligible as they make their donation! 1 in 3 people say they are likely to donate more if they know they are match eligible so it is especially valuable to inform donors of their eligibility as they make their donation. 
360MatchPro utilizes a streamlined search field that identifies a donor's match eligibility status right there on the donation page. With an intuitive drop down search bar scanning Double the Donation's extensive database of gift matching and volunteer grant programs, all the donor has to do is type in their employer and 360MatchPro will provide them with the necessary gift matching information and forms. They could even spell their company name wrong and 360MatchPro would still be equipped to determine their gift matching eligibility!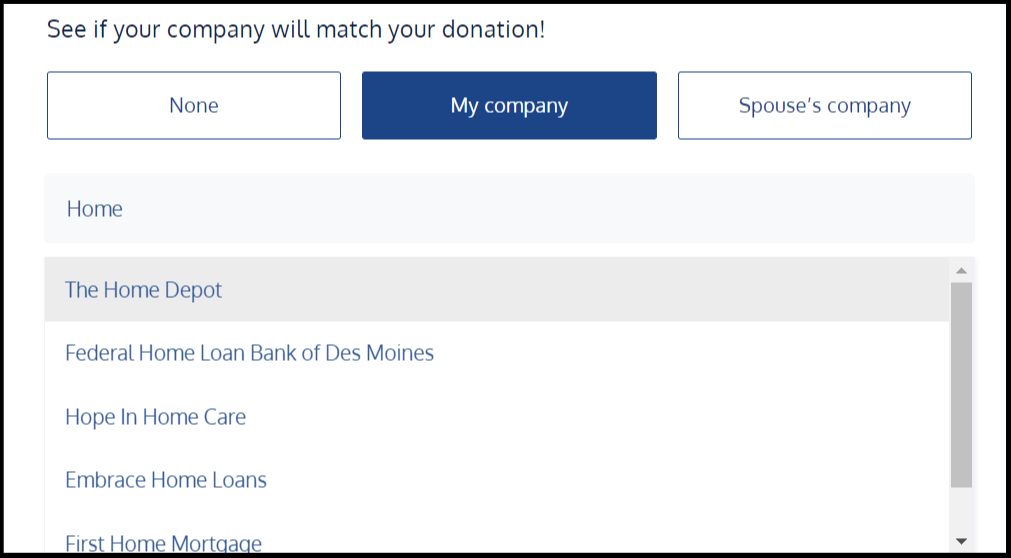 With the seamless integration of 360MatchPro and Shift Marketing, donors can complete their donation and immediately begin the matching gift process with just one click. The confirmation page details the donor's company gift matching policy as well as how to complete the match to simplify the process for the donor.

Further Relationships with Customized Follow-Ups
The Shift Marketing and 360MatchPro integration also allows organizations to send automated, customized emails following the donation process to increase the likelihood of completing a match. This is especially beneficial because using multiple approaches to identify match eligible donors results in 77% more identified match eligible donations which can result in more revenue for your organization without any more work! 
360MatchPro also allows organizations to send follow up emails with an embedded button connecting the donor directly to their employer's matching gifts page. This means with just one click donors are able to begin the matching gift process. Plus, these emails are entirely customizable giving your organization free reign over the content, branding, and even the email address it sends from. This way your donors know these messages are coming from you and not a third party organization they won't recognize or connect with.
With the help of the 360MatchPro dashboard, your organization can effectively engage with your donors no matter what step of the matching gift process they are in. Whether your donor has already completed the gift matching process or has yet to identify their employer, you can reach out to them with the appropriate messaging using one of the automated, segmented email streams within your 360MatchPro dashboard.
Enrich Your Fundraising Experience Using Live Donor Metrics
With the 360MatchPro dashboard, you can also follow along with donors as they navigate the matching gift process. The dashboard provides you with valuable insights such as email open rates and gift matching status so you can plan future communication strategies. 
The Shift Marketing and 360MatchPro integration provides you with easy to understand donor analytics to help you effectively engage with each donor, no matter where they are in the process. You can remind match eligible donors to complete their match or help those who haven't yet discovered their match eligibility get started. Sending personalized messages shows the donor that you value and appreciate their donation and encourages them to match it!
The 360MatchPro dashboard gives you a live look at your organization's gift matching potential as well as insights into your donor base. Using Shift Marketing's Shift One Analytics Dashboard in conjunction with 360MatchPro's dashboard will allow your organization to maximize your marketing reach and your gift matching opportunities. Being aware of your total donation amounts, match eligible value, and understanding your donor's specific gift matching programs will allow you to tailor your future outreach campaigns to give you more fundraising power.

Advance Fundraising Possibilities with Shift Marketing and 360MatchPro
Shift Marketing and 360MatchPro work together to provide an invaluable software solution for your organization to maximize revenue. With donor analytics, customizable follow-up emails, and increased donor awareness, your organization can fuel fundraising with corporate gift matching.
The integration is easy to navigate and includes these intuitive features as well as more:
Ability to embed the 360MatchPro widget in both your donation and confirmation pages to increase matching gift eligibility identification among donors

Automated and customizable follow-up emails to maintain consistency in your branding across communication channels

Analytics derived from donor data to turn insights into donations
Schedule a personalized demo to see how the Shift Marketing and 360MatchPro integration can work for you!