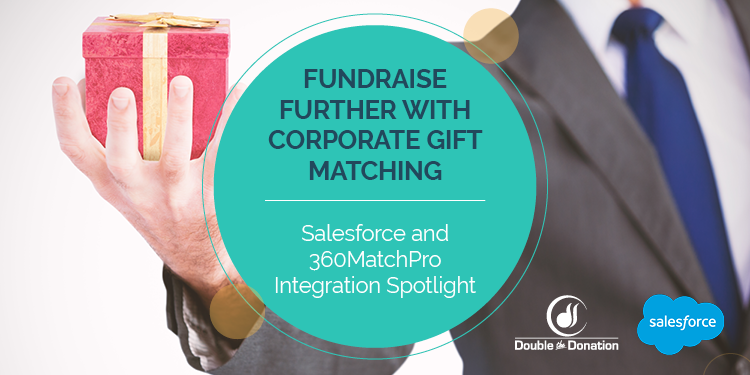 If you work in the nonprofit space, you know that fundraising is crucial to the success of your organization. Your donors believe in your mission and want to see their dollars stretch as far as possible in order to accomplish that mission. Wouldn't it be nice if there was a way for donors to double or even triple their donation dollar amounts without going deeper into their own pockets? 
The good news is that there is! 
Corporate giving and gift matching programs are a great way to generate more revenue for your organization without asking your donors for more of their own dollars. Adding corporate gift matching to your organization's fundraising arsenal can help you focus on your mission while still increasing revenue. 
The integration between Salesforce and 360MatchPro by Double the Donation, the industry-leading automated matching gift platform, will make matching gifts that much easier for your organization. Combined with Salesforce's powerful CRM, 360Matchpro can maximize your fundraising opportunities and save you time. Through this integration, your organization will be able to easily and effectively inform donors about corporate gift matching opportunities and then drive those matches to completion. 
Read on to find out what you can accomplish with the Salesforce and 360MatchPro integration!

Identify Gift Matching Opportunities with Synchronized Systems
The Salesforce and 360MatchPro integration identifies match-eligible donors and connects them to the gift matching process through automated outreach. This outreach is enabled by the seamless sharing of donor information across the two systems, allowing your gift records to exist simultaneously in both Salesforce and 360MatchPro.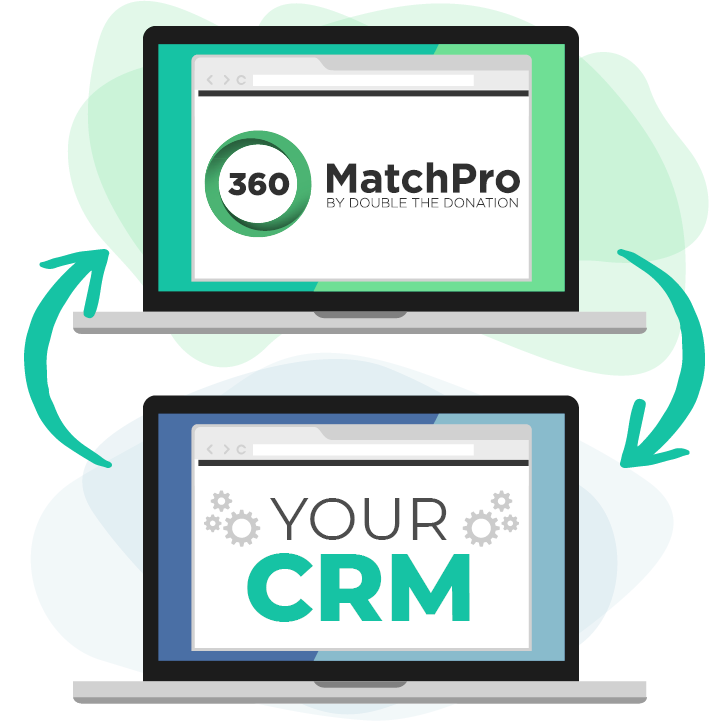 Once a donation is submitted, it will be recorded in your Salesforce instance like normal. Then, every 15 minutes, donation records will flow into the 360MatchPro platform. This information will then trigger automated outreach emails to ensure donors can locate and then complete their employer's gift matching form to drive revenue for your organization. 
As 360MatchPro identifies those donors eligible for gift matching, it sends that information back to your Salesforce CRM. This flow of information allows you to collect and store important donor information, including donor employer's and matching gift status, in both platforms. With these insights flowing through both systems, your organization will be able to plan future fundraising initiatives and communication strategies that effectively engage donors and optimize fundraising opportunities. 

Automate Communication to Complete More Matches
As 360MatchPro receives donor information, it will send an automated message to the provided email address to encourage the donor to begin the gift matching process. This message will explain the value of the gift matching process while providing the donor with actionable next steps if they are match eligible. And with links embedded within the automated emails, the donor will be able to identify their match eligibility with just one click!
These follow-up emails can be customized with your specific branding, logos, and messaging to ensure you maintain your unique voice as an organization. You can even dictate what email address it sends from to ensure your donors will recognize and associate the message with your organization.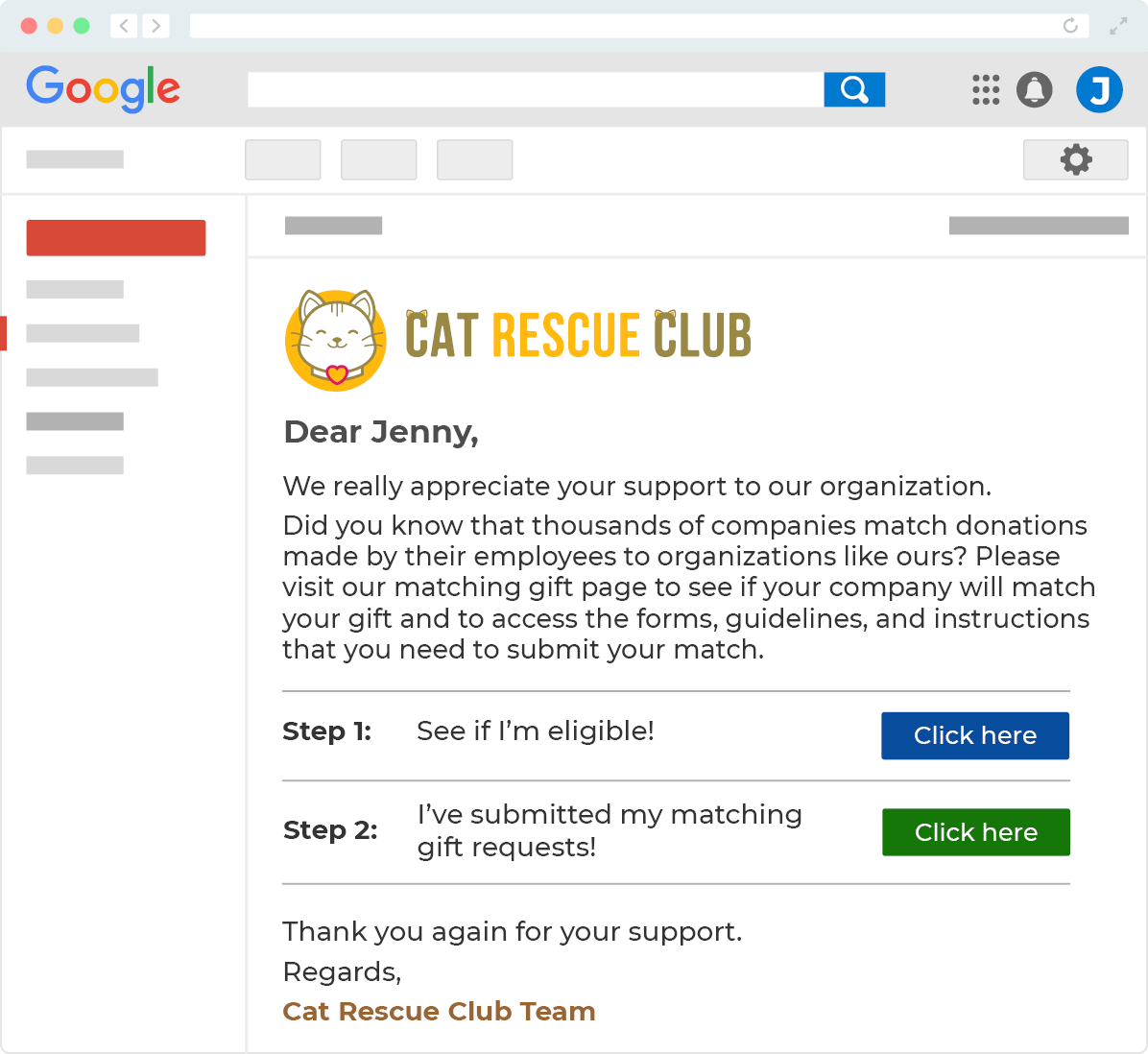 When your donors click to check their eligibility, it leads them to a streamlined search tool. The search bar prompts the donor to input their employer. The search bar will suggest employers as the donor types allowing them to quickly identify their matching gift eligibility. If eligible, the donor can navigate to their company's gift matching form and complete their match. 
Donors can also find pertinent gift matching information including company match amounts, employee eligibility, and details of the submission process, all provided by Double the Donation's extensive database of matching gift and volunteer grant programs. This database is constantly updated to ensure the most accurate information. 
You can utilize these automated emails to reach your donor at various points throughout the gift matching process. You can automate emails to remind your donors to check their eligibility or encourage them to complete the match if they have already been identified as match eligible. These personalized outreach initiatives help deepen relationships with your donor base and increase the likelihood of a match completion! 

Drive Results with Donor Metrics
The 360MatchPro dashboard represents each component in this process and displays valuable statistics on donor engagement. With the actionable insights provided by the dashboard, your organization can plan future outreach strategies to maximize your fundraising opportunities.
The insights and features available within the 360MatchPro dashboard allow you to schedule your customized emails, view donor information, and even track donor response tendencies all in one place. This enables you to fine tune your outreach strategies and create personalized messages for your donors. 
The dashboard also allows you to track donor metrics in real time. This means you can check email open rates and match status as the donor navigates the gift matching process. With up-to-the-minute data, you can more effectively cater to your donor demographic and drive more matches to completion. 

Increase Revenue with Corporate Gift Matching
With the Salesforce and 360MatchPro integration, your organization can take full advantage of the fundraising juggernaut that is corporate philanthropy. The seamless integration between the two platforms offers you valuable insights and effective communication channels to drive revenue for your organization. 360MatchPro by Double the Donation is the first matching gifts provider available in AppExchange. Once you download the 360MatchPro App, Salesforce and 360MatchPro can begin effortlessly sharing data to make the most of corporate gift matching for your organization. 
The Salesforce and 360MatchPro integration has many great features including these:
Data and Analytics:

Both 360MatchPro and Salesforce recognize the importance of data storage and analysis. Salesforce already provides you with custom information reports, and now you can use the 360MatchPro dashboard to view comprehensive charts and statistics on donor engagement.

Automated Engagement:

Your donors are important to you. That's why Salesforce and 360MatchPro allow you to use automated and targeted donor engagement to enhance external communication. 

Branding and Customization:

360MatchPro allows you to design all aspects of your messaging. This means that all donor communication will be designed by your organization, and all emails will come from your organization's email addresses, not a third party that your donor doesn't recognize.
Visit the 360MatchPro website to get a personalized Salesforce integration demo!