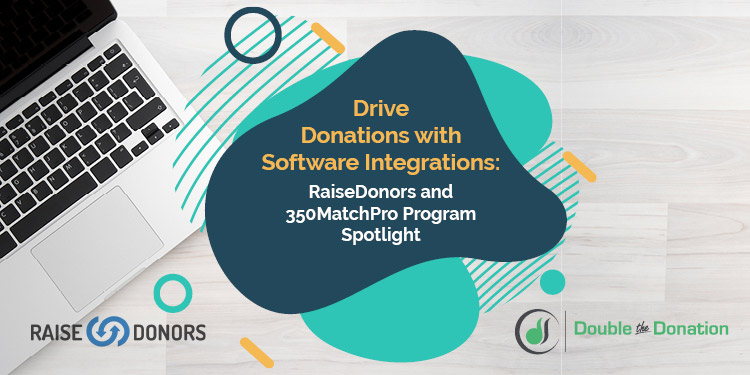 Many companies offer gift matching programs, which is a fabulous way to drive donations for your nonprofit organization. Unfortunately, only seven percent of donors with gift matching programs actually submit a matching gift request. This means that there is an estimated four to seven billion dollars that goes unclaimed each year. That is quite a lot of money that many programs are missing out on. 
Luckily, the RaiseDonors and 360MatchPro integration provides a simple solution. With just the click of a button, you can increase your donation power without asking your donors for more dollars. 
You already love RaiseDonors for its ultra simple fundraising experience. Now there is another reason to utilize this platform. The 360MatchPro by Double the Donation software works to further your fundraising through employer gift matching programs. The process is simple, and it is certain to increase contributions. 
Wondering how it all works? Check out the step by step instructions below!

Simple Steps to Double Donations
This integration makes claiming gift matching money easier than ever. Donors continue their normal donation process with only one exception: The donation form will now ask them to list their employer. The donation page explains that this step could be used to increase their contribution through corporate gift matching programs. This is important, because mentioning gift matching programs can result in 51 percent increase in average donation amount, making it an effective way to increase fundraising power. 
The streamlined search tool allows the donor to conveniently type in the name of their employer to check gift matching eligibility.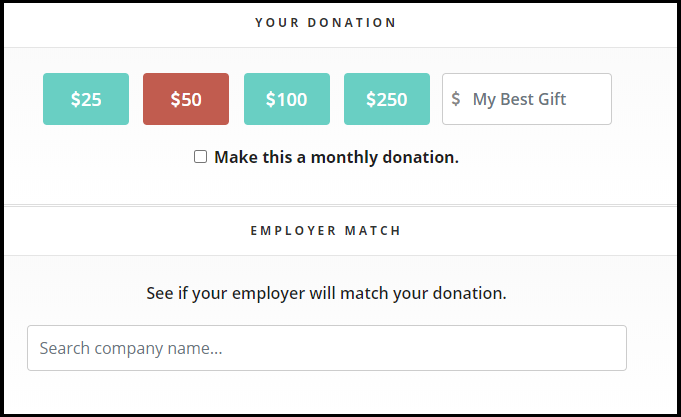 Once donors enter this information, 360MatchPro checks its extensive database of gift matching and grant programs. This database was developed and maintained by researchers at Double the Donation. This diligent team gathers information from community relations departments, matching gift program administrators and more! This database is constantly being updated to make sure that the information is timely and accurate. If you would like to read more about this process, check out Double the Donation's gift matching database web page.
Donors can type in their company name in the streamlined search bar. Search suggestions will appear, making it quick and easy for the donor to flow through the donation page without getting distracted. They can then select their employer with one click. Once the company is selected, the page will update to show the chosen company. This gives the donor a clear confirmation so that they can move confidently forward in the rest of their donation form.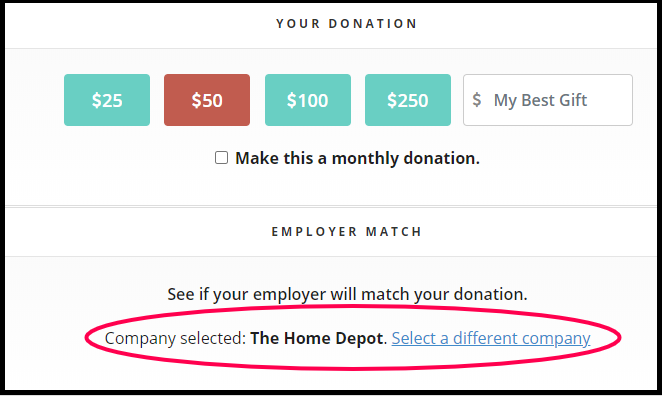 If the donor wants to edit their company choice, they can easily click the "Select a different company" option. The form still includes the reason for the company selection step, so that the donor understands why this information is being collected. 

Communication Strategies to Increase Engagement
After the donor has made their contribution, they will see a payment confirmation. Then they will receive an email notifying them that they might be eligible for an employer gift matching program.
This email will explain that many companies provide this benefit, and it allows employees to increase their donation power. The email will then detail next steps for the donor to continue the gift matching process. 
This message will also provide important information about the specific company gift matching program, such as program guidelines, matching ratios and more.  These details will give the donors confidence to click the option that continues their gift matching contribution.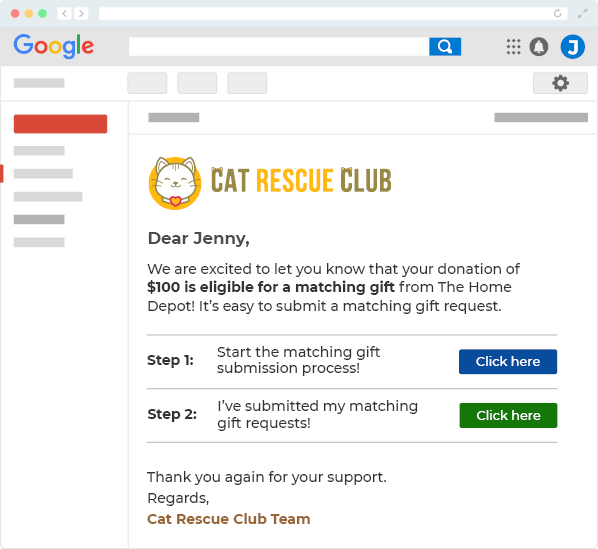 While communicating with donors it  is so important for nonprofits to retain their unique voice. That is why this email is completely customizable. Nonprofit organizations decide the appearance and content of the message to ensure that they don't lose the organizational style of their external communications. 
These customization features include color, logo, messaging and more. This email will also come from your organization, not a third party program that your donor wouldn't recognize.

Analyze Donor Data to Drive Results
This fundraising process produces valuable information for your organization. This data can be accessed on the 360MatchPro account page. It includes donor insights such as name, email, employer and donation status. This page also displays how many emails have been sent to each donor, recording their communication chain. This information can then be used for future outreach and management efforts. 
For example, your organization can create automated email templates that thank your donor for their contribution. These templates may include the donor's company and specific gift matching amount. This personalized message shows the donor that they are valued and appreciated.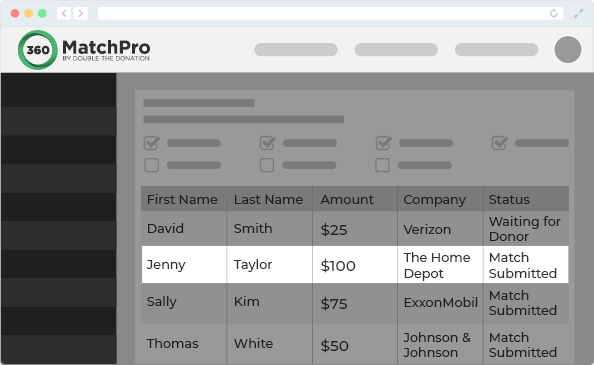 This page also has a sorting tool, providing you with a way to categorize donor information. This feature allows you to filter through your selected results. Donors can be sorted by their stage in the donation process or their match eligibility. This tool also improves targeted automated messaging. 
For example, if Jenny from Home Depot was sorted as a "Home Depot employee" who was "eligible for a match" but had an incomplete donation, she could receive a tailored email that explains Home Depot's gift matching program while asking her to consider driving her donation to completion. 

Helpful Tips to Fuel Fundraising
This simple process could help your organization double its donations! The RaiseDonors and 360MatchPro integration allows nonprofits to easily manage their organizations while increasing their fundraising targets. 
360MatchPro and RaiseDonors have even more great features to enhance your experience: 
Data and Analytics

: Both 360MatchPro and RaiseDonors recognize the importance of data storage and analysis. RaiseDonors already provides you with custom information reports, and now you can use the 360MatchPro dashboard to view comprehensive charts and statistics on donor engagement. 

Automated Engagement:

Your donors are important to you. That's why RaiseDonors and 360MatchPro allow you to use automated and targeted donor engagement to enhance external communication. With 360MatchPro you can customize the frequency and logic while also tracking metrics, segmenting donors and managing subscriptions.  

Branding and Customization

– 360MatchPro allows you to design all aspects of your messaging. This means that all donor communication will be designed by your organization, and all emails will come from your organization's email addresses, not a third party that your donor doesn't recognize. 
Exploring nonprofit management tools is a great way to strengthen your organization.  Check out the 360MatchPro page to learn about a variety of gift matching resources.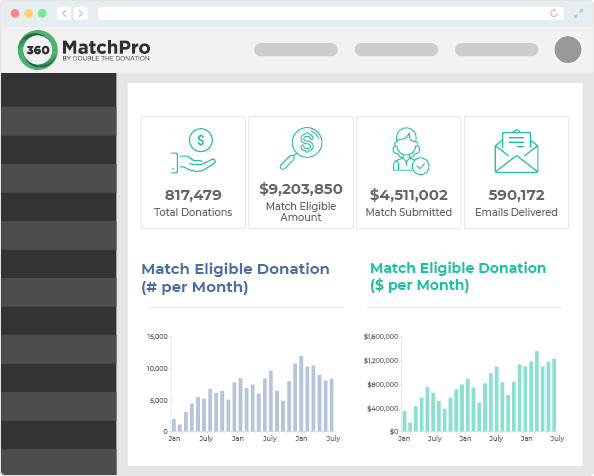 360MatchPro provides a dashboard feature for users to track the listed insights and more. This page stores your gift matching stats, allowing you to analyze your total donations, match eligible value, submitted gift matches and delivered emails. 
This information demonstrates which companies provide the best gift matching so that you may further tailor your ongoing outreach campaigns by targeting donors with the greatest contribution power.
---
Gift matching tools can increase contributions for the cause that you care about. It's a simple way to raise more money without asking donors for more dollars. 
There are many company programs, informative guides and case studies to learn from, and we've compiled a list of our favorites. If you would like to learn more, check out these websites: