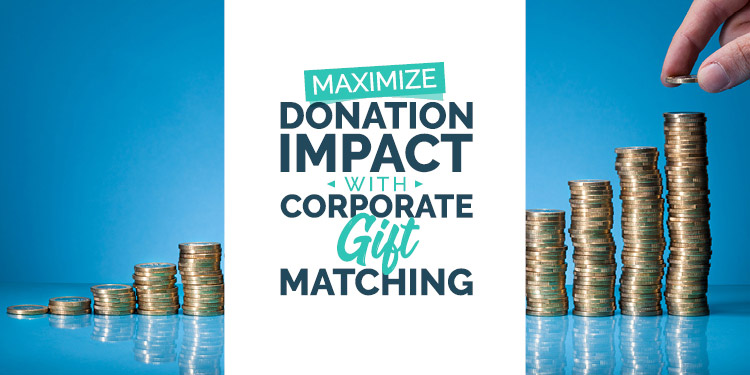 Nonprofits are always looking for flexible and seamless solutions to their fundraising needs. They want to be able to create an easy and streamlined giving experience for their donors and an intuitive, configurable fundraising solution for themselves. What these nonprofits often don't realize, however, is the incredible fundraising opportunity of corporate gift matching. If you knew you could increase the donations that came to your organization by double or even triple the amount, wouldn't you jump at the chance? 
That's the power in corporate gift matching through the integration of GiveGab and 360MatchPro by Double the Donation. GiveGab Enterprise online donation forms integrated with the 360MatchPro tool allow you to lead your match eligible donors to the resources they need to submit a matching gift form to their employers, and get that revenue flowing to your organization. 
Between $4-7 million dollars in corporate gift matching revenue is left on the table each year. If you're looking to claim some of that revenue for your nonprofit this year, you'll want to inform your donors of gift matching opportunities, follow up with your match-eligible donors to encourage action, and keep track of your donor relationships with a comprehensive, easy-to-navigate platform. The integration of GiveGab and 360MatchPro offers all of these and more to make gift matching easy for donors and increasing fundraising revenue a no-brainer for you. 
Let's take a look at how it works!

Inform Your Donors of Matching Gift Opportunities
Over 18 million individuals work for companies with gift matching programs. With such a high volume of match-eligible donors, why do completed gift matches seem so rare? It turns out that because these matching gift programs aren't highly publicized, only 7% of donors at companies with matching gift programs actually submit a matching gift request. Donors aren't informed, and therefore aren't able to take the necessary steps to complete a matching gift application form and increase their impact on your organization.
The solution? Let your donors know ASAP the opportunity to have their donation double or tripled with the 360MatchPro tool integrated with the GiveGab platform. Donors can enter their company name in the 360MatchPro search bar right from the donation page.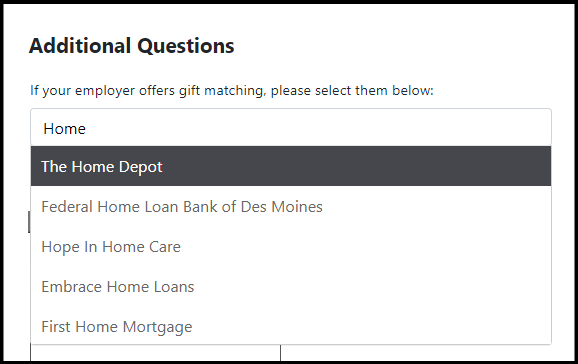 Once donors see their employer's name as a suggestion in the search database, they're intrigued by the possibility of a match! And since 84% of donors say they're more likely to give if a match is offered, you want to let donors know of that possibility as early in the process as you can.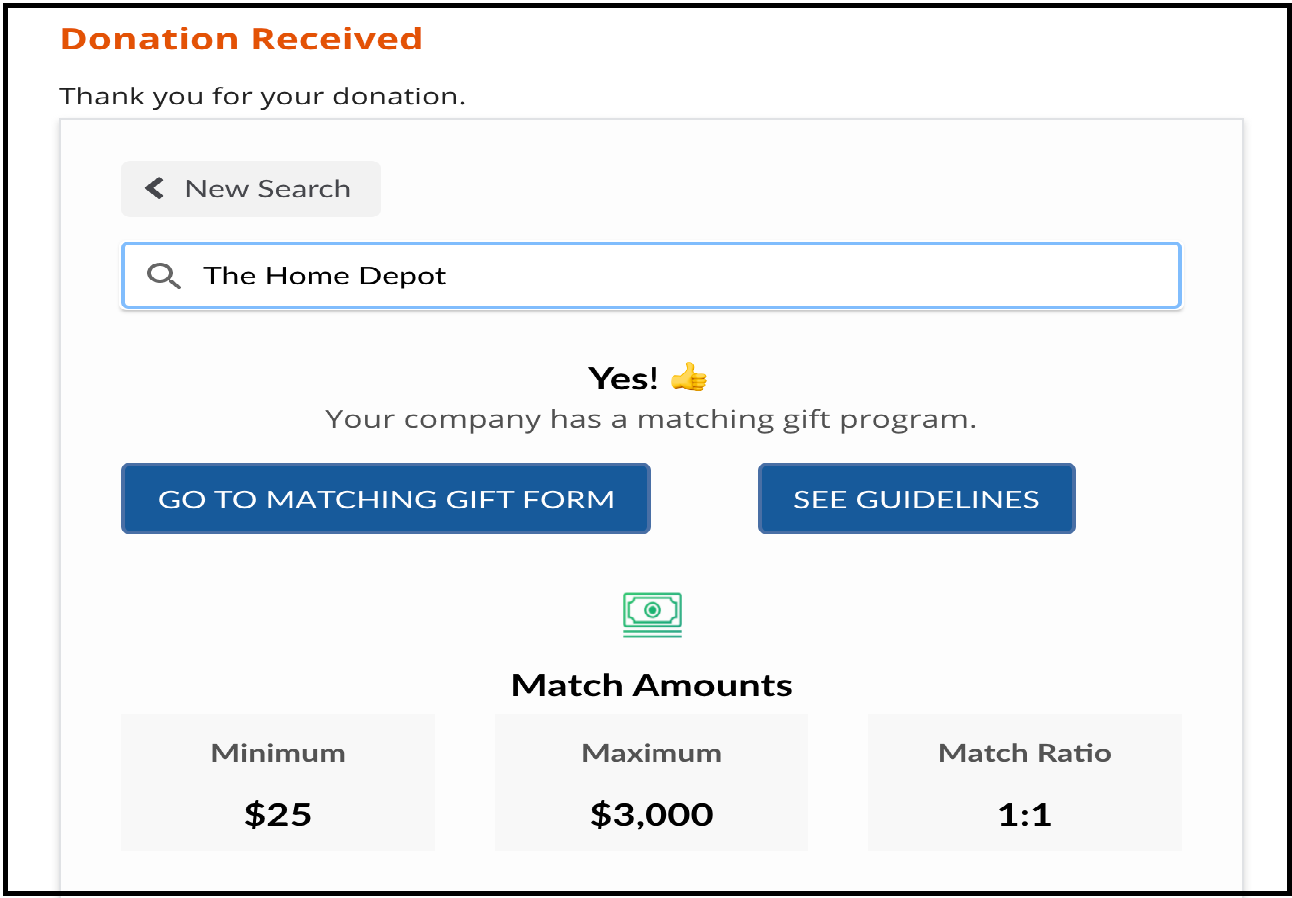 The confirmation page gives donors another opportunity to enter in their company name and see if they are match eligible if they haven't checked already. It also provides them with an easy "Go To Matching Gift Form" button that links to the donor's company matching gift website. In minimizing the amount of research a donor must do to get the gift matching process started, 360MatchPro creates a direct line between the donor's initial contribution and their company's application. It's as easy for the donor as search, donate, match!

Follow Up with Donors to Encourage Gift Matching Action
The GiveGab and 360MatchPro integration offers features that help you keep up with your donors even after they've closed out of their donation pages. You can set up customizable, automated emails to send to your donors and encourage them to move forward with submitting a gift matching application to their company. Repeated interactions with your donors increases your chances of seeing action from them, so why not supplement your confirmation and appreciation emails with easy next steps toward a matching gift?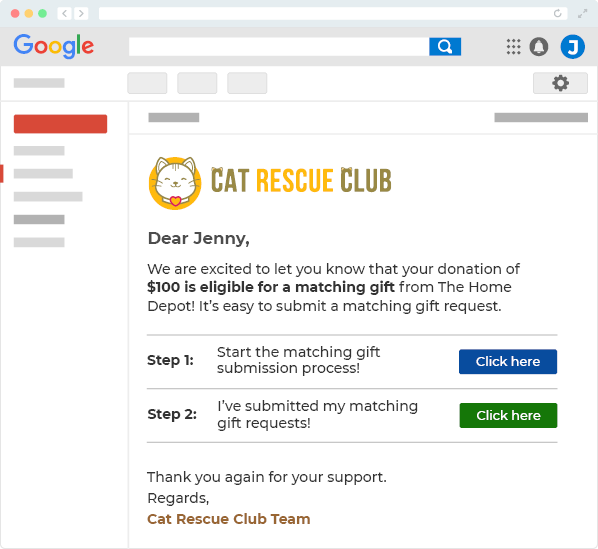 The 360MatchPro integration lets you customize and configure these emails to your liking. That means you get to keep your branding consistent without having to sacrifice the ease of the 360MatchPro tools!

Effectively Manage Data to Create Better Outreach
From driving donations to managing branding to organizing your outreach strategy, your nonprofit already has a lot on its plate. The last thing you would want to do is add deciphering a complicated donor analytics page to your growing list! That's why the 360MatchPro donation dashboard is designed to be easy to read and manage so you can get the information you need without having to be a tech expert.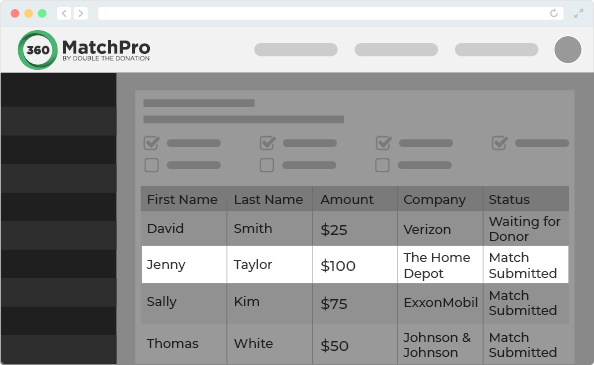 You'll be able to see who donates, how much they give, and the status of their company gift matching if they are eligible! When you're aware and on top of this essential information regarding gift matching, you'll be able to effectively implement outreach strategies to best help your organization and drive matches to completion.

GiveGab and 360MatchPro Maximize Donor Impact
Corporate philanthropy programs allow your donors to maximize the impact of their donation without having to reach back into their wallets. It's the perfect way for donors to see their donations encourage more change and a great avenue for companies to contribute to important causes without giving too much of their time or personnel. For you, the nonprofit, you are able to see donors and companies increase your fundraising revenue and move your mission forward.
The GiveGab and 360MatchPro integration work together to make the magic of gift matching a reality so that everyone can maximize their impact. GiveGab prides itself on being an intuitive, flexible, and seamless solution—360MatchPro offers the same to nonprofits with a variety of features, including: 
Options to embed the 360MatchPro widget into both your donation page and confirmation page so that donors have multiple opportunities to start the gift matching process

Email domain identification to cultivate donors with an email address corresponding to a match eligible company 

Email customization tools to keep your branding consistent and blend into your GiveGab-powered donation pages
GiveGab and 360MatchPro work together to identify match eligible donors and assist them in doubling their donation to your organization with corporate gift matching. That means you'll see a drastic increase in revenue without having to put in drastic effort! Your organization can focus on carrying out your mission with the confidence that GiveGab and 360MatchPro are focused on optimizing donor relationships and boosting your fundraising efforts. Visit the 360MatchPro website to get started.
---
For more information on corporate gift matching, you can explore these resources: