Corporate gift matching allows nonprofits to boost their fundraising revenue without requesting more money from their donors. Despite this giant industry, an estimated 4 to 7 billion dollars in matching gift funds goes unclaimed each year. With the right resources, your nonprofit could claim that revenue, expand your fundraising, and have a greater opportunity to focus on the most important thing: the mission of your organization.
Enter 360MatchPro by Double the Donation, the industry leading corporate gift matching software. Giveffect already creates custom branded mobile-friendly donation pages and with the software integration of 360MatchPro and Giveffect, you can double the eligible donations generated by those donation forms. 
360MatchPro identifies potential gift matching opportunities for donors and then uses specific and branded messaging to drive these matches to completion. By alerting your donors of potential match opportunities as they donate, fundraising becomes just a little bit easier. With 84% of donors feeling more compelled to give when there is a match offered and with 1 in 3 donors saying they would make a larger donation if matching is applied, 360MatchPro can take your fundraising to the next level.
Let's explore just how 360MatchPro and Giveffect can help simplify your fundraising!

Establish Donor Awareness to Increase Revenue
By integrating 360MatchPro into existing donation forms, you are able to alert the donor of match potential during the initial donation process. Currently over 18 million individuals work for companies with gift matching programs and yet the majority of these individuals are either unaware or uninformed about how to complete the matching process. 
As the donor navigates the usual donation process, they are prompted with an intuitive search bar that suggests employer names as the donor types. This search bar allows the donor to check if they are match eligible and concisely explains why the donation page is asking about their employer. After the employer has been selected, the 360MatchPro tool scans an extensive database of existing gift matching programs. This list is continually updated to ensure the most accurate information is being utilized.

Upon submission of the donation, the Giveffect and 360MatchPro integration will bring the donor to a confirmation page that provides them with information regarding their company's gift matching policy and actionable next steps. With just one click, the donor can begin the matching gift process. 
360MatchPro technology simplifies the matching process to directly connect the donor to the matching process in as few clicks as possible. By minimizing the number of clicks, Giveffect and 360MatchPro are maximizing fundraising making it easier for you and the donor!

Automate Follow-Ups to Complete More Matches
The Giveffect and 360MatchPro integration also allows donors to stay on top of the matching process even after completing the initial donation. The donor will be sent an automated, customized email after their donation that details the gift matching process and the next steps to take in order to complete the match. The donor can use the buttons embedded in the automated email to begin the gift matching process with just one click. The automated emails are entirely customizable allowing your organization complete control over messaging, branding, logos, and even the email address it sends from.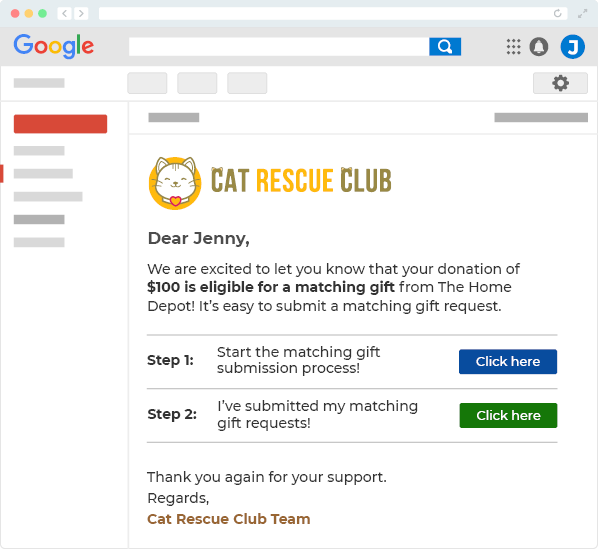 Giveffect and 360MatchPro's follow up emails serve as a perfect reminder to complete the matching gifts process or to start it if they haven't already. Each email also supplies donors with the option to say they have completed and submitted their gift matching request. This button can even be linked to a personalized thank you message from your organization's website. The donor information given during and after the match allows your company to track completed matches while gathering valuable information pertaining to donor demographics.
Not only are each of these actionable items trackable in the 360MatchPro dashboard, there are many other insights provided through the Giveffect and 360MatchPro integration. This data allows you to access gift matching insights and donor information as it is submitted.  With all of this information at your fingertips, your organization can better understand your donors and make the most of fundraising.

Donor Driven Data for Optimal Communication
In addition to streamlined gift matching, the 360MatchPro and Giveffect integration gives you access to valuable and digestible donor analytics to help you effectively plan for your organization's future. 
The 360MatchPro dashboard gives you access to donor names, email addresses, employers, match eligibility, and so on to allow you the opportunity to effectively manage present and future communication strategies. With access to what emails were sent and when as well as what emails the donor has opened, you can keep track of the matching gifts process as the donor completes each step.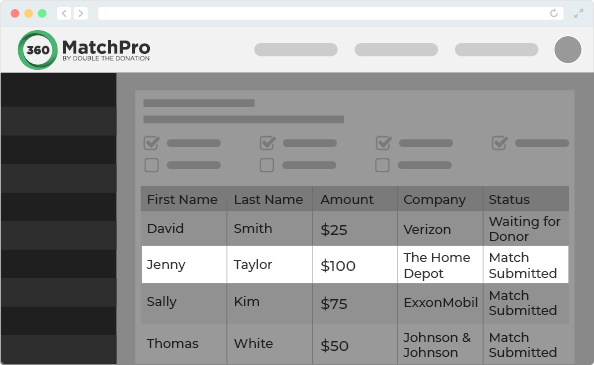 The information provided on the dashboard will allow you to better address your donor base throughout the entirety of the matching gift process as well as help your organization ensure that matches are driven to completion. This gives your organization the perfect opportunity to claim those extra 4-7 billion dollars in revenue while establishing further connections with your donor base!

Expand Fundraising Possibilities with Giveffect and 360MatchPro's Integration
With Giveffect and 360MatchPro's simple and easy to navigate integration, corporate gift matching just became that much easier.
Giveffect already offers automated data entry and logs your donor records; combined with 360MatchPro, you can also view comprehensive charts and statistics surrounding donor engagement.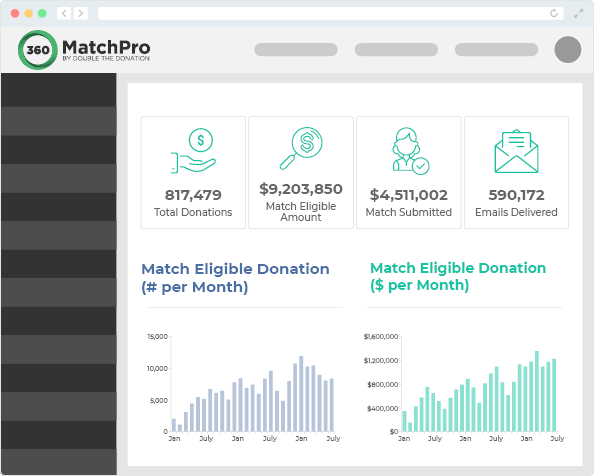 This integration includes these features as well as many more simple, navigable, and intuitive components:
Email automation and customization tools to help expand donor communication strategies 

Options to embed 360MatchPro in multiple places across the donation platform to increase opportunity and likelihood of matching gift completion

Analytics and insights that will propel your organization forward in fundraising and deepen donor relationships
Giveffect and 360MatchPro work together to provide the most streamlined way to identify match eligible donors and drive those matches to completion. Through corporate gift matching, your organization will see an increase in revenue without an increase in effort. As you continue working on your organization's mission, the Giveffect and 360MatchPro integration will work on furthering fundraising for you.
Schedule a personalized demo to see just how the Giveffect and 360MatchPro integration could work for you on the 360MatchPro page.