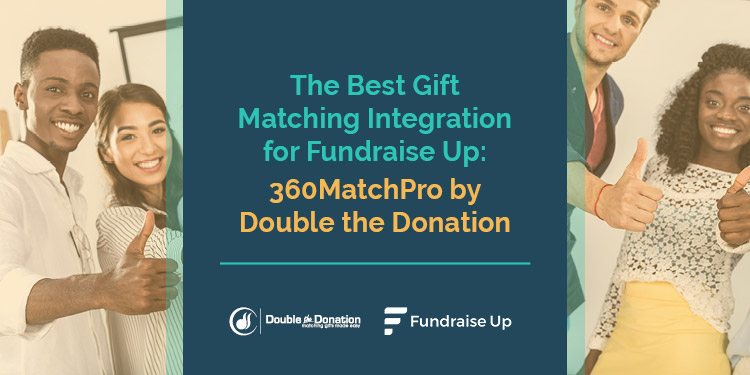 As a nonprofit professional, you've most likely encountered different plugins that can be added to your management software. Sometimes it can be hard to know which ones are worth your time. Luckily, we've tried out 360MatchPro by Double the Donation for Fundraise Up, and we are so impressed with the results.
We all know Double the Donation from their matching gift and volunteer grant database, which is the leading software of its kind in the nonprofit industry. 360MatchPro by Double the Donation is designed to increase nonprofit donations through employer gift matching programs. This software can be integrated with other fundraising systems.
Through Fundraise Up forms, there's a one-click way to add the matching gift power of 360MatchPro to any donation. This will increase your revenue without asking donors for more of their own fundraising dollars. 360MatchPro can be seamlessly integrated into the donor experience. This means increased donations without any extra work – just the click of a button. 
Let's check out this process step-by-step.


Drive More Donations through Employer Gift Matching
So how does this work? When donors make a contribution, the donation screen will ask for their employer. It will explain to the donor that this information could double their impact through gift matching programs.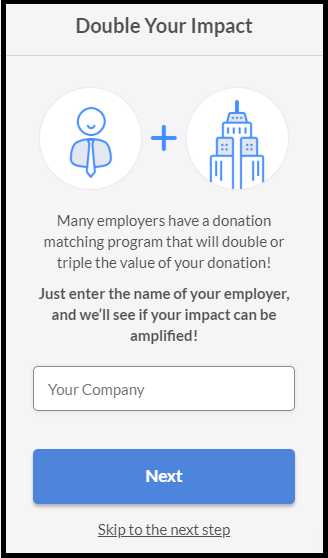 Donors can easily type in the name of their company to see if they are eligible for employer gift matching benefits to potentially double their donation. This page provides a streamlined search tool to keep donors on track during this process. The drop down menu will show their suggested responses, and the donor can simply click on their company name. This suggested search tool not only prevents donors from becoming distracted, it also makes them less likely to enter wrong or misspelled company information.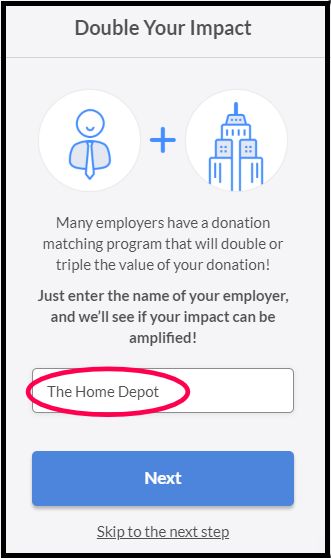 Once the donor makes an employer selection, 360MatchPro scans a comprehensive database of matching gift and volunteer grant programs. This database is built and maintained by a team of diligent researchers. They gather information from community relations departments, matching gift program administrators and more! Visit Double the Donations gift matching database web page to read more about this process. 


Communicate with Donors to Maximize Contributions
Once the donor lists their employer, the page will thank them for their donation. If the donor is eligible for a gift matching program, they will receive an email notifying them of the good news. This email is comprehensively customizable, and it allows nonprofits to keep their unique voice while communicating with donors. We know how important it is to retain your organization's
style, so you won't have to sacrifice tailored messaging during automated communication outreach. In fact, the email will even be from your organization, not a third-party company that your donor doesn't recognize.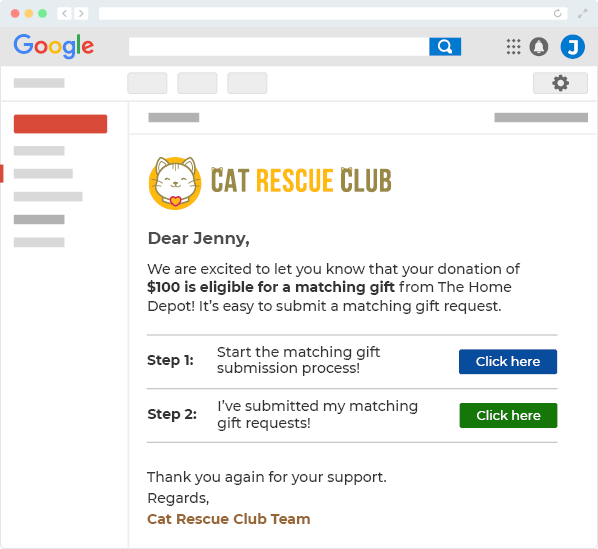 The email will also include helpful information about the employer's gift matching program, such as the gift matching ratio and employee guidelines. This will help the donor better understand their increased donation and leave them feeling confident in their contribution. 


Evaluate Donor Data to Ensure Success
Important information on this process is readily available for your organization. This donor data can be found on the 360MatchPro account page. This information includes the donor's name, email, employer and donation status. This data can be useful for contacting donors in the future and targeting employer gift matching programs. In fact, this page allows you to sort information based on your own categorical preference, which is a great way to filter communication outreach. You can sort the donors based on match completion or employer information to create emails that are personalized and relevant to the donor. This will make them feel more valued and recognized by your organization, and it might encourage them to to continue contributing to the causes they care about. 
It's that simple! The Fundraise Up and 360MatchPro integration gives donors an easy way to increase their contributions while giving nonprofits an easy way to increase revenue. 


Valuable Tools to Drive Revenue
This seamless software integration will give you all of the valuable functions of 360MatchPro while still retaining all of your favorite aspects of Fundraise Up. The software can be integrated quickly and easily, providing you with the best fundraising tools in seconds.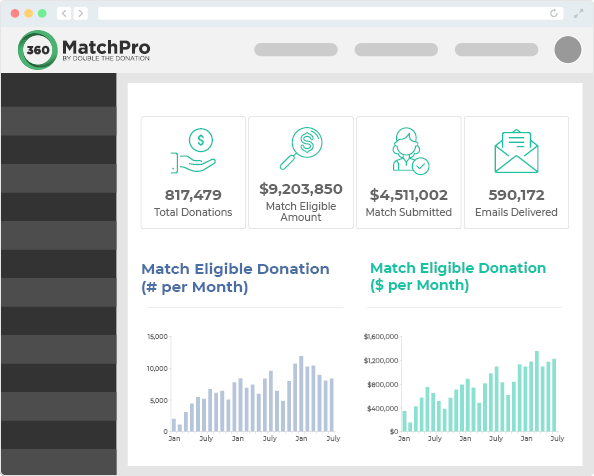 360MatchPro provides even more great features for your Fundraise Up experience. 

Donor Analytics

: Fundraise Up already lets you leverage donor data through donation management, A/B tests, subaccounts and more. You can continue to track donor developments from 360MatchPro on the Fundraise Up donor dashboard. 360MatchPro donor data provides tracking metrics and identification tools to ensure that you can create successful strategies for your valued contributors. 

Branding and Customization

: As mentioned before, retaining your organization's brand is important. That's why 360MatchPro allows you to customize many facets of the platform. From communication and outreach to 

Identification Tools

: These tools can be easily integrated into your existing donation process. Identification tools are designed to help your donors understand their gift matching eligibility, encouraging them to participate in their company program. These tools include embedded information widgets and email domain identification. 
There are always more resources to discover. Learn more about 360MatchPro services.  
---
Gift matching tools are a great way to increase funds for the cause that you care about. It's a simple way to make the most of your organization's donation power. 
Understanding gift matching tools is an important aspect of successful nonprofit management so we've compiled a list of helpful resources. If you would like to learn more, check out these websites: