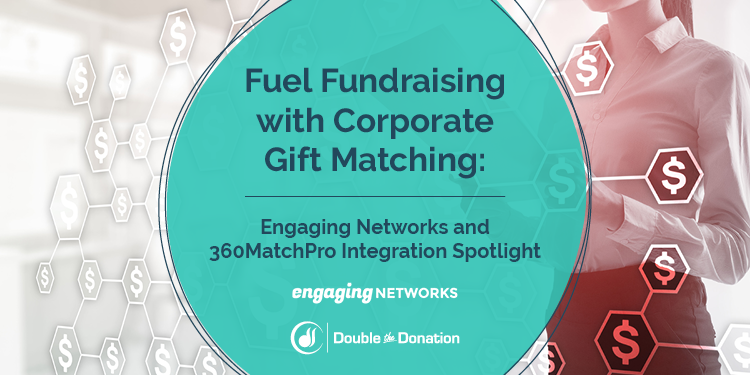 As the online fundraising landscape continues to evolve and grow, modern nonprofits are attempting to keep pace with the constant changes. With so many different programs and platforms out there, it can be hard to discern which programs are worth it and which aren't. You want to invest your time and effort into fundraising strategies that empower your organization to do more good. 
One valuable opportunity you don't want to miss out on is corporate gift matching. Companies with gift matching programs will financially match the donations their employees make to charitable organizations. This means more donations for your organization without asking your donors to reach deeper into their own pockets. With 18 million individuals working at companies that offer gift matching programs, bringing in that extra revenue seems like a no brainer. But despite the scope of these gift matching programs, many donors aren't aware of corporate gift matching and are leaving money on the table.
The key to taking full advantage of corporate gift matching is to utilize a gift matching automation software. Luckily, Engaging Networks and Double the Donation have done the hard work for you with their partnership. You already count on Engaging Networks for your fundraising needs, and now you can expand your reach through their integration with 360MatchPro by Double the Donation.
Double the Donation's 360MatchPro is the industry leading gift matching automation platform. It makes identifying match eligible donors easier and driving matches to completion simpler.
Want to know just what Engaging Networks and 360MatchPro can do for your organization? Read on to find out!

Increase Revenue with Gift Matching Technology
The Engaging Networks and 360Matchpro integration allows your organization to use corporate gift matching to its fullest potential. With the intuitive 360MatchPro software, your donors will be able to identify their gift matching eligibility right on the donation page. Once the donation has been submitted, 360MatchPro's extensive database will supply the appropriate gift matching information to the donor. The integration removes the guesswork and provides the donor with the necessary items to drive their match to completion. Equipping the donor with the information they need to complete their match simplifies the gift matching process and drives revenue for your organization. 
By integrating 360MatchPro directly into your donation forms, donors will be prompted to enter their employer as they make their donation. With the streamlined search field, donors can quickly enter their employer, identify whether or not their donation is match eligible, and complete the donation without ever being directed to a new page. 360MatchPro's search field catches donors at the perfect time given 1 in 3 donors say they are likely to give more if they know their gift is going to be matched! Not only that, but 360MatchPro's search tool accounts for spelling errors and parent companies to guarantee your donor is provided with the correct gift matching information.
After the donation has been submitted, donors will then be presented with personally tailored actionable next steps on the confirmation page. These next steps are informed by the information the donor provided during the donation and allow the donor to begin the gift matching process with just one click!

Amplify Outreach with Email Automation
The Engaging Networks and 360MatchPro integration goes beyond just donation forms and confirmation pages. The integration also allows your organization to send automated, customized follow-up emails to donors regarding their gift matching status. Follow-up emails are an essential part of any gift matching strategy as they serve as a reminder for donors who have not yet discovered their matching gift eligibility or who have not completed the matching gift process. And with 360MatchPro's automated follow-up outreach, donors can be taken directly to their employer's matching gifts page in just one click!
Manually sending out these follow-up emails can get complicated, so 360MatchPro makes it easy with automated outreach. The emails are entirely customizable so that your organization can stay consistent in your messaging. You can even customize the email domain these follow-ups send from to ensure that your outreach is recognizable to donors.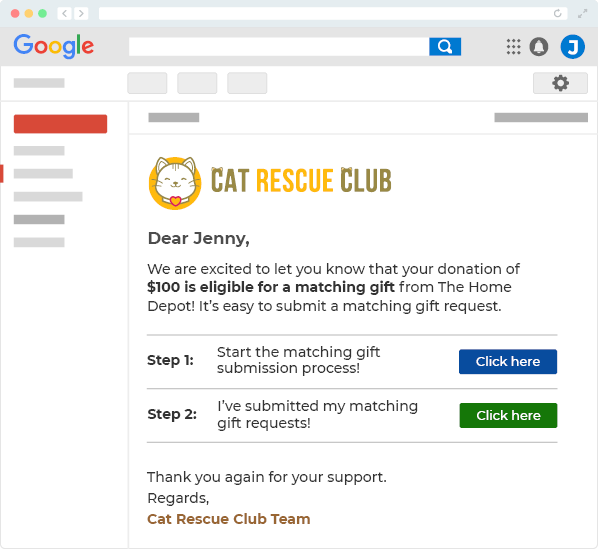 The communication automated by 360MatchPro is also informed by donor metrics in order to maximize your organization's gift matching potential. If a donor completed a donation without entering their employer, then 360MatchPro can send emails encouraging them to check their eligibility. On the other hand, if a donor has identified their employer but hasn't completed the match, you can schedule an email to send that provides them with a direct link to their employer's matching gifts page. 

Drive Revenue with Donor Insights
Throughout the donation process, 360MatchPro collects and stores valuable donor information such as donor names, email addresses, employers, and matching gift eligibility. 360MatchPro also keeps a record of what emails have been sent to donors, what emails are scheduled to be sent, and even what emails a donor has or has not opened. These insights allow your organization to plan future outreach strategies based on what communication has reached each donor. Effectively communicating helps you maintain positive donor relationships and send only the most relevant messages.
The entire gift matching process can be tracked in your 360MatchPro dashboard. Staying informed about where each donor is in the matching gifts process allows you to maximize your gift matching revenue potential and optimize your communication strategies. Following along with a donor's matching gift process allows you to send tailored messages depending on where the donor is in the process. You can send thank you emails to those who have identified they completed the matching gift process or you can send reminder emails to those who started the process but never finished. Personally engaging with each donor helps you grow your donor relationships and increases the likelihood of a match!

Fundraise Further with Engaging Networks and 360MatchPro
Corporate gift matching is currently an underutilized fundraising powerhouse. The Engaging Networks and 360MatchPro integration simplifies the corporate gift matching process for you and your donors to maximize your fundraising opportunities. With the streamlined search, automated outreach, and valuable donor insights, 360MatchPro can take your fundraising strategies to the next level. Engaging Networks already helps you elevate your fundraising with their flexible, customizable, and innovative software platform. By adding 360MatchPro to your existing Engaging Networks fundraising toolbox, you can take full advantage of corporate gift matching. 
Take your fundraising to the next level with these robust features offered by the 360MatchPro and Engaging Networks integration:
Option to embed the 360MatchPro plug-in on both your donation forms and confirmation pages

Email customization to maintain consistency across your various communication channels

Automated outreach to send effective and specific messaging based on your organization's needs