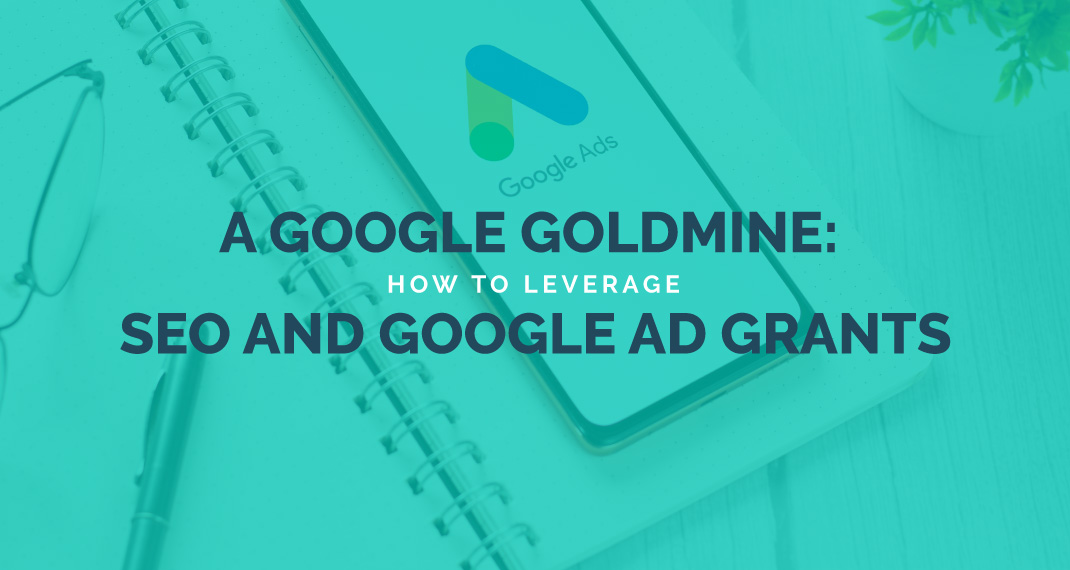 Much like their for-profit counterparts, nonprofits need to stay on top of new marketing trends so that they can activate new supporters for their cause. However, if you're like other nonprofit marketers, you know that one of the biggest pain points you face is your budget.
What if there were marketing strategies that could expose your organization to thousands of web surfers, absolutely free? Google Ad Grants and search engine optimization (SEO) are exactly that! Both tactics offer unmatched opportunities to boost your visibility on search engine results pages for keywords relevant to your cause.
Want to learn more about leveraging $10,000 in free digital marketing space each month and accessing the best ad spots Google has to offer? Let's get started by answering some frequently asked questions!
Google Ad Grants and SEO for Nonprofits FAQs
What's the difference between Google Ad Grants and SEO marketing?
While similar in many ways, there are a few key distinctions between these two strategies that you should be aware of:
Google Ad Grants is a program headed by Google that offers nonprofits up to $10,000 per month in free advertising space on the search engine results page. Nonprofits bid on keywords relevant to their cause to determine the order of ads on each page.
SEO is a free marketing strategy that any organization with a website can leverage. It involves updating your website to align with SEO standards, such as providing accessible and useful content, to climb the search engine rankings for certain keywords.
Nonprofits can, and should, leverage both of these strategies together to make their website as visible as possible so they can catch the attention of billions of web users around the world.
What does a blended marketing approach look like?
That said, nonprofits can achieve the most impact by blending both tactics. Consider this example of a blended approach for a nonprofit animal shelter:
First, the shelter identifies valuable keywords that appeal to its target audience, such as "adopt a pet" or "local shelter near me."
Next, to achieve maximum exposure, the shelter creates a Google Ad Grant strategy for the same keywords that point to its donation page, adoption application, and related educational guides.
Then, the shelter starts optimizing its important pages for these keywords, including them in image alt text, URLs, and other web elements.
Over time, the shelter creates more high-quality content for its website that is purely educational, which boosts its rankings further.
By combining the immediate exposure that Google Ad Grants provides with the organic growth from SEO, your nonprofit marketing efforts can thrive in both the short- and long-term.
Why are these marketing strategies valuable for nonprofits?
Your nonprofit should keep these tactics on your radar because they can:
Offer a massive return on investment (ROI). According to Getting Attention, since Google Ad Grants and SEO don't cost you anything upfront, they have some of the highest ROI of any marketing strategy.
Help you compete with big nonprofits. Depending on your nonprofit's niche, you might be competing against nonprofits with more marketing resources and reach. These strategies allow you to climb the ranks by creating useful and compelling content, which puts you on a more level playing field with bigger nonprofits.
Generate a sustainable impact. Unlike marketing strategies that take constant funding to maintain visibility, a mixed Google Ad Grants and SEO approach can impact your website's rankings for long periods of time. Once your site is optimized and performs highly, with your Google Ad Grants linking back to it, you can maintain your position with little upkeep.
Now that some of your initial questions have been answered, let's continue with how to launch each strategy.
Getting Started with Google Ad Grants
Launching a new marketing strategy can be overwhelming, but Google has perfected and simplified its application process for the Ad Grants program. Follow these steps to start your journey with Google Ad Grants:
Create a Google for Nonprofits account. This website is your home base for applying for Google Ad Grants and leveraging other Google offerings, such as the YouTube Nonprofit Program.
Verify that your website is secure with HTTPS. This step involves signing into Google for Nonprofits, entering your main website that ads will point to, and clicking "submit website."
Complete the Ad Grants eligibility form. This 20-minute assessment verifies that your eligibility to receive Ad Grant funding based on the program's rules.
Submit your activation request for review. Google will review your eligibility assessment to determine if you're a good fit for the Ad Grants program. This usually takes about three business days.
Once you've been accepted, it's time to start leveraging Google Ad Grants! This includes picking keywords, writing ad copy based on audience research, and tracking your initial progress after they go live. Remember that you'll need to manage your account hygiene to maintain compliance with Google.
If these steps seem daunting to you, don't worry—there are professionals out there who can help you make the most of your Google Ad Grants account. Pick a Google Grant agency that's within your budget, offers ad account strategy and maintenance, and understands the unique needs of your organization. Their expertise can help you successfully launch your campaign from the get-go.
Getting Started with SEO
Unlike Google Ad Grants, each nonprofit's approach to SEO will be slightly different. That said, here are some surefire tips that will set you up for success:
Gauge your nonprofit's current SEO standing. Use tools like Moz to research keywords relevant to your nonprofit's mission and how your nonprofit is currently ranking for them.
Update your website according to SEO best practices. As mentioned earlier, you'll want to take a holistic approach to increasing your website's SEO value. Instead of just focusing on writing educational content or improving technical SEO elements, keep both in mind as you craft your approach.
Monitor your progress. Free tools like Google Search Console and Google Analytics allow you to see which of your pages are ranking so you can update your overall approach accordingly.
Leverage local SEO. Ensure you claim your Google My Business token for your nonprofit so your website gets more authority in your local area.
While these tips provide a good baseline for your SEO practices, keep in mind that it's constantly changing with search engine algorithm updates. Stay on top of these changes by following SEO-focused blogs and monitoring technologies and marketing channels that impact SEO, like AI.
---
Now, you have everything you need to go off and be a search engine marketing machine! Just ensure that you consistently track and pivot your SEO and Google Ad Grants strategies so you succeed in making a name for yourself in your local area and beyond.