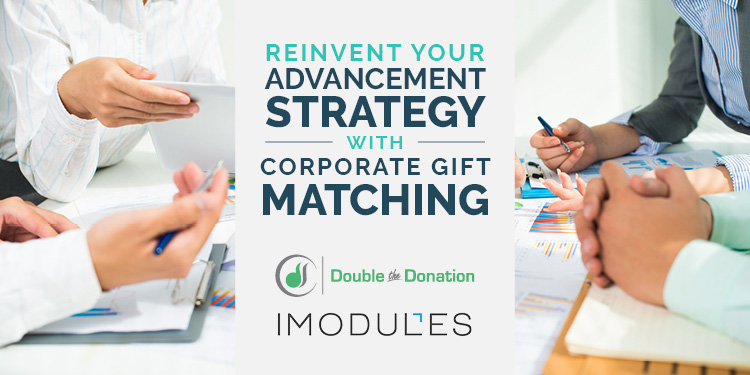 In order to do what they do best, higher ed institutions need easy ways to boost revenue and keep track of their donating alumni network through an intuitive, configurable donor management system. What these organizations often don't realize, however, is the incredible advancement opportunity of corporate gift matching. If you knew you could increase the donations that came to your organization by double or even triple the amount, wouldn't you jump at the chance? 
That's the power in corporate gift matching through the integration of Encompass from iModules and 360MatchPro by Double the Donation. Encompass online donation forms integrated with the 360MatchPro tool allow you to lead your match eligible donors to the resources they need to submit a matching gift form to their employers, and get that revenue flowing to your organization. 
Between $4-7 million dollars in corporate gift matching revenue is left on the table each year. If you're looking to claim some of that revenue for your University this year, you'll want to inform your donors of gift matching opportunities, follow up with your match-eligible donors to encourage action, and keep track of your donor relationships with a comprehensive, intuitive platform. The integration of Encompass and 360MatchPro activates in minutes, and is fully supported on the Encompass and 360MatchPro platforms. Get started in just a few steps—no complicated IT required. 
Let's take a look at how it works!

Make the Gift Matching Experience Easy
The integration allows donors to enter the name of their employer/business into a search database powered by Double the Donation to find if they are eligible for a corporate gift match. The autocomplete company name search function makes it easy for supporters to find their employer even if they don't type in the exact registered name. Encouraged by the possibility of a corporate gift match, 1 in 3 donors are likely to increase their gift amount!
On the following confirmation page, Double the Donation outlines the gift matching policies of the chosen company. At the top of the page, the "Go to Matching Gift Form" button leads donors to the gift matching form on their company's website. All the donor has to do is fill out the form and submit!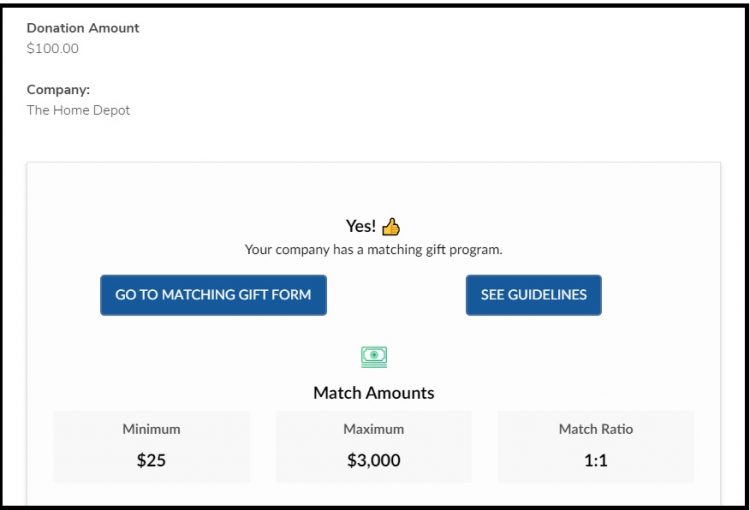 Leading donors directly to the place they need to go to initiate the gift matching process with their employer creates a direct pipeline between your donors and the resources they need to double or even triple their donation.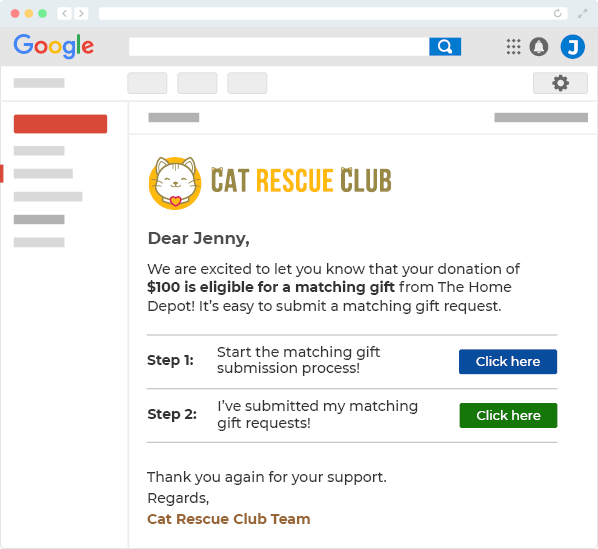 The confirmation page isn't the only chance donors will have to submit a matching gift request. 360MatchPro gives you the option to send customizable emails to your match eligible donors with buttons that once again lead them to their company matching gift application form. You're in control of the cadence, content, and branding of these emails so you can make sure your outreach is consistent with your organization and meets the needs of your donor base.

Keep Track of Eligible Donors and Gift Matching Progress
Use the Double the Donation platform to keep tabs on donors' contact information, their affiliated companies, and the progress of their matching gift application. Keep track of where your donating alumni work and the matching programs of the top companies in your supporter network.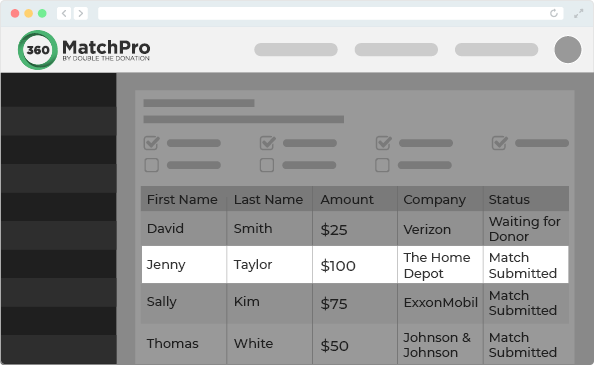 The information provided by the 360MatchPro platform can help you maintain important contact with your donors to optimize corporate gift matching! The more connected you are with your supporters throughout the gift matching process, the more likely you are to keep those corporate matches coming and increase your revenue!

Reinvent Advancement Strategy with Encompass and 360MatchPro
Only 1.31% of individual contributions are matched at the average organization. This is often due to lack of awareness about corporate gift matching opportunities! Informing your donors by using the Encompass and 360MatchPro integration helps them make impactful gifts matched by corporate philanthropy. With the Encompass and 360MatchPro integration, your institution can deepen its legacy, engage supporters, and expand your impact through gift matching.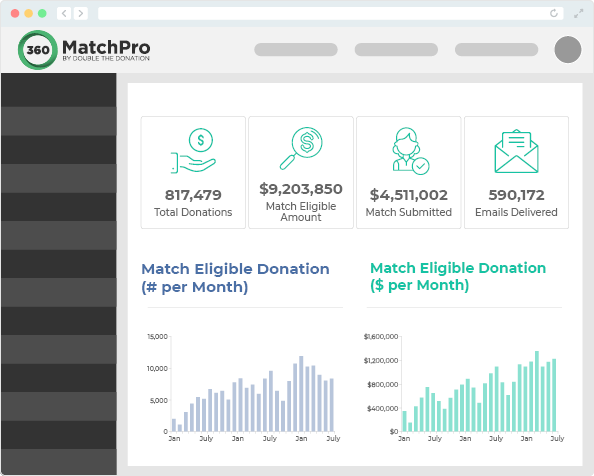 Encompass from iModules offers an all-in-one, cloud-based advancement and donor relationship management solution to help you transform the way you strategize advancement. The 360MatchPro integration takes things one step further by providing your University with features designed to help you stay focused on driving donations and increasing your revenue. Some of these features include: 
Options to embed the 360MatchPro widget into both your donation page and confirmation page so that donors have multiple opportunities to start the gift matching process

Email domain identification to cultivate donors with an email address corresponding to a match eligible company 

Email customization tools to keep your branding consistent and blend into your Encompass-powered donation pages
Encompass and 360MatchPro work together to identify match eligible donors and assist them in doubling their donation to your organization with corporate gift matching. That means you'll see a drastic increase in revenue without having to put in drastic effort! Your organization can focus on alumni engagement and management with the confidence that iModules and Double the Donation are focused on optimizing donor relationships and boosting your advancement efforts. Visit the 360MatchPro website to get started.
---
For more information on corporate gift matching, you can explore these resources: