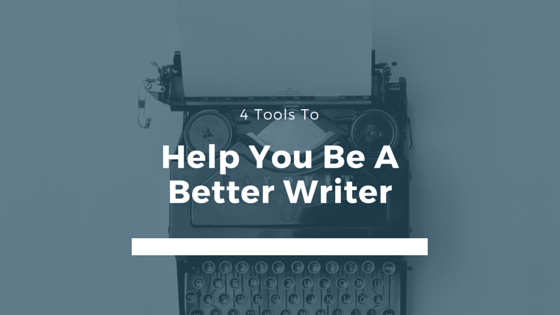 You can become a better writer. While you may not love writing or be the most naturally creative person, it can be learned and improved. It starts with wanting to get better, practicing your craft and then looking for simple ways to optimize your writing. I can't help you want to get better but here's a few tips as you go about practicing your craft and then 4 free tools that, together, can hopefully make you a slightly better writer.
Repeat yourself. Yes, it's okay to repeat yourself when writing.
As Jeff Brooks points out, repeating yourself can increase something called processing fluency – the ease with which information is processed. The argument for repetition is actually quite simple. Our brains are wired to take the paths of least resistance and when processing information so when words and phrases are repeated they become easier to process. Once words and phrases are easier to process are brain likes them more. When our brains like words and phrases more it leads to preference. And preference leads to choice or action – often the end goal when we are writing.
This is important because you are probably sick of writing the same old stuff – time and time again. Your case for support seems tired, your mission sounds old and your impact story feels out of date. That may well be true but don't confuse reuse and repetition with plain old bad communications and positioning. But how do you know the difference? Your donors will tell you. Either directly through feedback and survey responses (which you should do) or indirectly by not giving or giving again. Make sure you know what your donors think before assuming the repetition is boring as there's a good chance it's actually helping more than hurting.
Cut out the jargon! Please, cut out the jargon.
This is a weakness of mine. I like to sound smart. I want to sound smart. But trying to talk and sound smart is often at odds with communicating concepts and ideas well, simply and clearly. Mr. Brooks again points out how damaging jargon can be while summarizing a post on jargon and points out four reasons you may be using jargon:
You want to show people that you're smart. As the test above shows, doing that might help you feel smart, but it clearly demonstrates that you're dumb.

You value technical accuracy over clarity of communication. If that's you, you may be a lawyer. You sure aren't a fundraiser.

You're on a mission to educate everyone else about the intricacies of your cause. Can you see how sociopathic that is?

You're so trapped in your own head that you don't realize other people don't speak your jargon. If that's you, a quick solution is to get professional fundraising help.
Ego contributes to #1 and a lack of time and expertise, in my experience, generally contributes to #4. Those can be fairly easily overcome. Trying not to be technically accurate all the time and avoiding the need to educate everyone all the time in your writing are much more difficult. Because you want donors to know what you know. Or understand the issue like you do. And you want your cause to be seen as unique and special. Because you think it's unique and special. But your writing isn't about you. It's about them.
And your donors really don't care how accurate you are or how unique you might actually be. They care about the difference they are making through you. They care about how you use their funds. And they care about receiving stories and updates that prove it.
There are a few tips (more here) but what about some simple ways and tools to optimize your writing process? Here you go…
4 Free Tools To Help You Be A Better Writer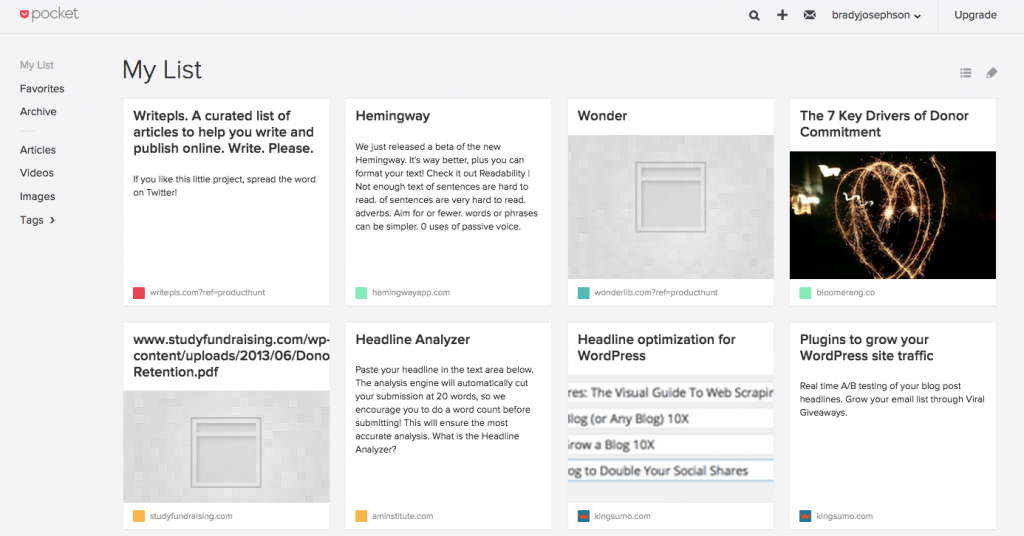 Pocket is a handy tool available on all devices that has handy browser plug-ins and integrations with services like Twitter. It used to be called Read It Later because it, well, allows you to read things later. You can file and tag posts, articles, resources however you want and access them later, online and offline, via Pocket. It's a great way to accumulate neat posts while you see them but don't have the time to read them.
It's also a great tool when researching for an article or post. For example, if you are wanting to write a post giving an update on Nepal and your work, you can create a "Nepal" tag and go searching for useful posts and stats. When you find them, add them to Pocket, tag them with "Nepal" and keep searching. When you are ready to write, open up Pocket, click on the "Nepal" tab and you'll see all your stories and resources in one place. Let the writing begin.
Start using Pocket to collect key articles and resources today.

This is one of my new favourites. I like to write in one full session to keep my tone and thought clear but in doing so I sacrifice accuracy and grammar. Enter Grammarly. With the free Chrome extension, Grammarly highlights not just spelling mistakes but identifies improper use of adverbs, when punctuation is lacking and can easily give you synonyms for words you use often. It also gives you a neat report on your grammar, words you overuse and other tips to write better. And because it works where you are already writing, Google Docs, Gmail, etc., it's like having your 7th grade English teacher sitting right beside you looking over your shoulder. Okay, that sounds terrible but Grammarly is not.
Start using Grammarly, for free.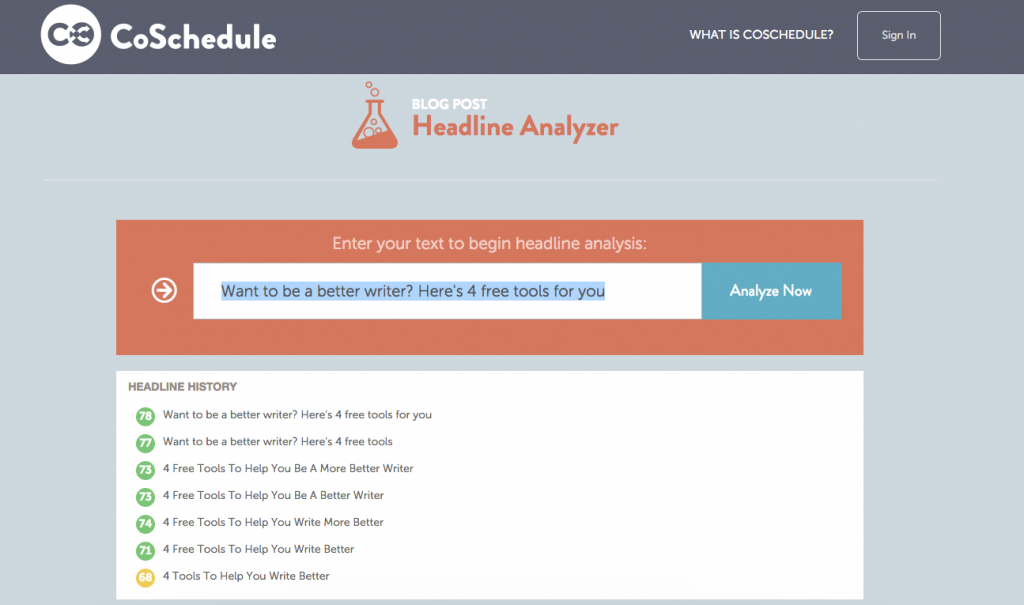 Just like a good subject line in your email helps with open rates, which leads to clicks, a good headline for your article, post or eBook is paramount to having your content seen, read and shared with others. But what makes a good headline? That's what the good folks at CoSchedule have tried figured out in looking at over 1 million headlines and corresponding clicks and shares. They looked at Emotional Marketing Value (EMV) which this free tool from the Advanced Marketing Institute is based on and added to it with elements that drive traffic, social sharing and SEO results.
The end product is their Headline Analyzer where you can submit headlines that will be analyzed instantly with a corresponding score. The higher the score the better. In the above image, you'll see how I experimented with a bunch of different possible titles for this post before settling on the current one. Pretty neat eh?
Check out the Headline Analyzer (and other cool CoSchedule services here).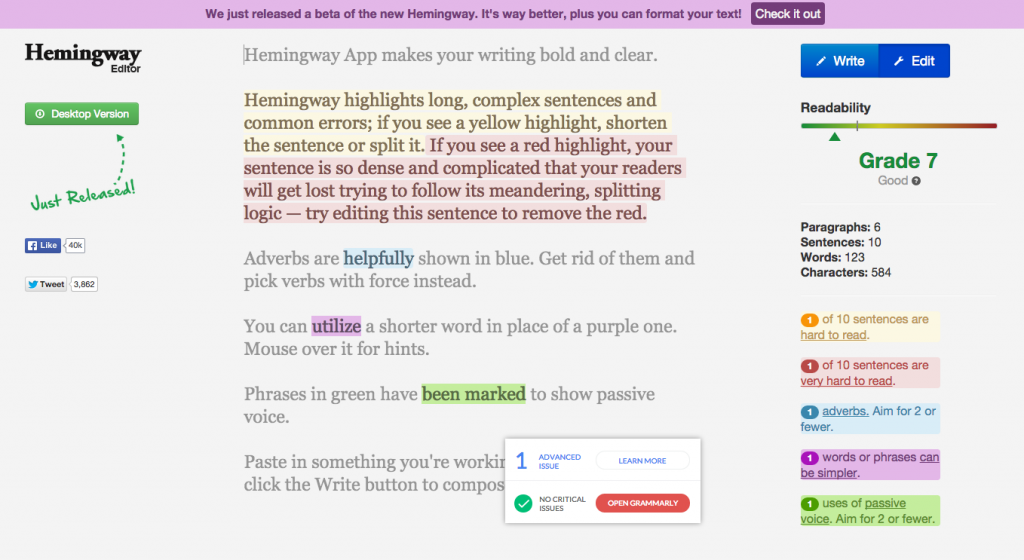 This is a new one that I just started using but have been loving it. You can write directly within the web-app or copy and paste your content to be analyzed for readability. Hemmingway will then highlight different words, sentences and phrases that are difficult to read or overly complex. Like Grammarly, Hemmingway will even suggest some words and fixes for you but ultimately it's about assessing the overall readability and highlighting problem areas.
Use Hemmingway online, for free, here (or buy and download the desktop version).
So…
Tools can't make you want to get better at writing. And they won't instantly make you a better writer. But as you continue to write, personally and professionally, they will help cut down on time, increase quality and help make you a better writer overall. And when writing, don't be afraid to repeat yourself and remember to cut out the jargon. You are writing for someone that is not you – write for them. Good luck!