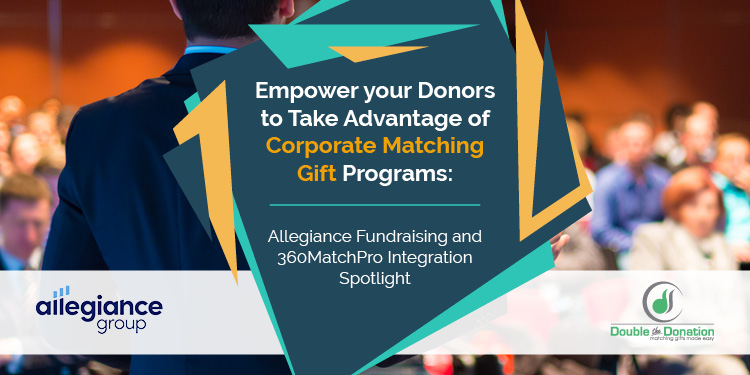 Producing marketing collateral that results in high conversion rates requires significant time and resources. As a nonprofit, you understand that this investment is important, but you also look for low-cost ways to increase your fundraising revenue. You know about matching gifts, but you find that few of your donors take advantage of such programs. Additionally, you are not sure of the best way to initiate that matching gift conversation. 
Matching gift automation software provides the ultimate solution to this problem and helps close the fundraising revenue gap. Allegiance Fundraising's integration with 360MatchPro by Double the Donation offers you a best-in-class software solution to drive those matching gift opportunities to completion.
As the industry leader in matching gift automation platforms, 360MatchPro equips you with all the tools needed to engage and empower your donors! This partnership helps you efficiently increase your giving revenue and make a lasting impact within the nonprofit sector. 
Interested to learn more about this partnership? We outline the details below! 

Inform your Donors of their Match Eligibility Status to Drive Revenue
Although 26 million individuals work for companies with matching gift programs, many employees are either unaware their company offers such a program, or they do not understand how to actually take advantage of it. This lack of donor awareness causes nonprofits to lose out on crucial revenue. In fact, only 7% of donors at companies with matching gift programs actually submit a match request. The partnership between 360MatchPro by Double the Donation and Allegiance Fundraising actively solves this problem. As donors complete their gift forms, a streamlined search bar prompts them to enter their company name and subsequently determines their eligibility. The Double the Donation database is constantly updated and quickly identifies whether donors' employers offer a matching program and, if so, it populates the specific program details after the donation is submitted.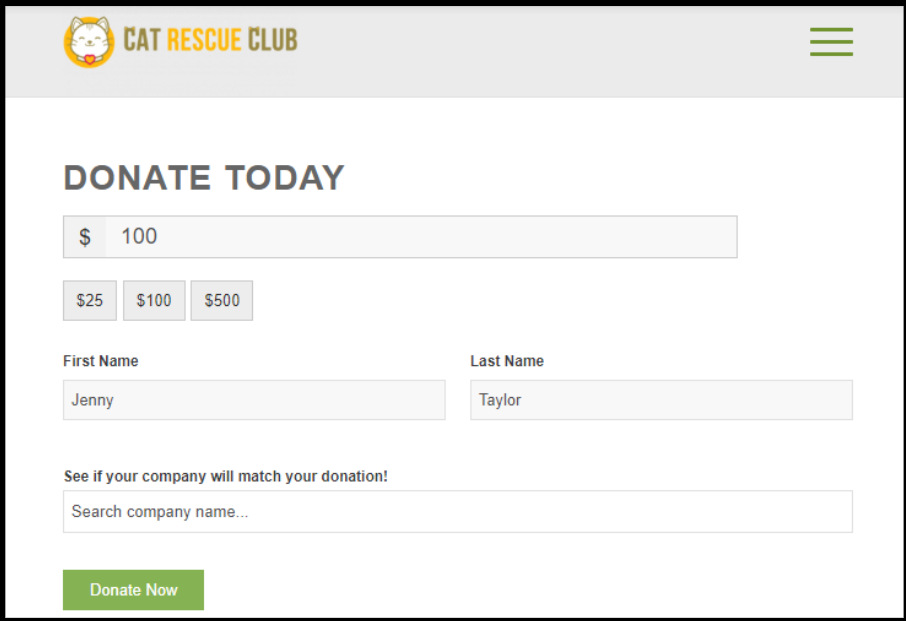 After that submission, donors will navigate to your Allegiance Donation form confirmation page where you can house direct links to the forms or materials needed to fully complete that matching gift request and display more detailed information regarding their company's matching gift policy.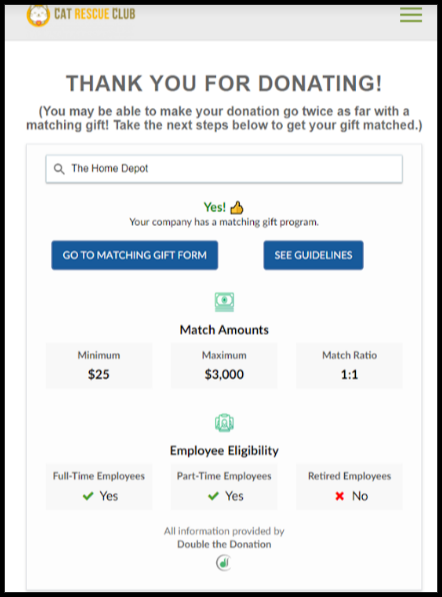 This simplifies the process for donors by providing them with actionable next steps and reducing the number of clicks required to complete the matching gift process. The easier it is for donors to submit the match request, the more likely those funds will be funneled back into your organization. 

Marketing Outreach Simplified and Amplified
In addition to simplifying the matching gift process for donors, this integration will reduce your workload and free-up time that your organization can devote back into other areas of the business. The 360MatchPro software allows you to provide donors with a link to their matching gift materials through automated email capabilities. This ability to easily follow up and remind donors drives efficiency and helps you reach the highest impact donors. Each email is customizable, so you retain your nonprofit's voice and branding. This means your outreach can be personal and consistent with donors' expectations. You decide the frequency and cadence of emails as well. By keeping you in control of your brand, 360MatchPro helps you nurture and even strengthen donor relationships.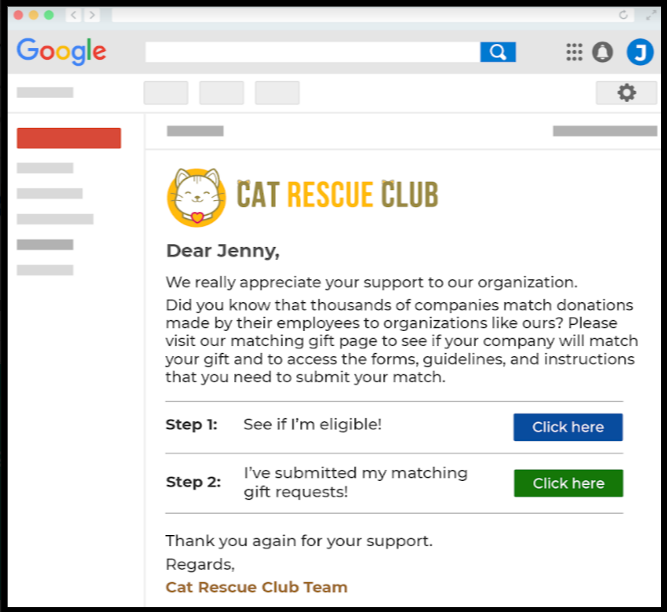 Since the automated marketing outreach saves you time, you can allocate that time to other aspects of donor engagement. The software allows you to segment communications according to donor metrics and characteristics as well. Targeting donors at specific points in their journey can ultimately increase communication effectiveness. For example, you can send an email with a link to the search tool to those who have yet to determine their eligibility, but you can send a different email with a link to their company's forms for those that have already been deemed eligible. Every donor gets the information they need when they need it. Your marketing will be faster and more efficient when you use this solution!

Develop Insights and Improve Fundraising Efficiency
360MatchPro automatically collects basic information such as donor email, donor company, and donor eligibility status and stores this information on one easy to read dashboard for your company. Additionally, the software reminds you how many emails donors have received, tracks email open rates, and collects the total number of matches initiated among other metrics.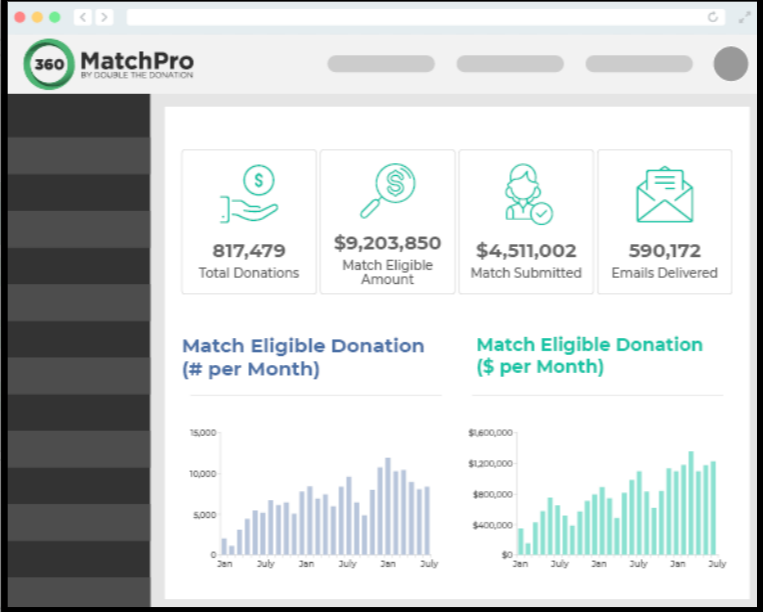 With all of this data, you can measure your gift matching potential, and you will begin to develop an understanding of how effective your communications are. While the captured insights will certainly help you drive more matches to completion immediately, they can also help you formulate an effective strategy for your long-term communication plan.

Unlock New Potential with Allegiance Fundraising and 360MatchPro
The partnership between Allegiance Fundraising and 360MatchPro will position your nonprofit for success. By informing donors of their eligibility status, tracking donor insights, and simplifying your donor outreach, 360MatchPro saves you time and is the best market offering in gift matching automation platforms. This integration prioritizes your nonprofit and improves your fundraising process! 
Learn more about the features that make this integration so valuable: 
Streamlined search bar that allows you to capture employment data easily to generate matching revenue from eligible donors

Automated donor outreach that incorporates your branding elements and organization voice so that your communications have maximum impact 

Metrics that keep track of your success in capturing matching gifts so that you can benchmark and improve 

And much more!
Schedule a personalized demo to see how the Allegiance Fundraising and 360MatchPro integration can help you take advantage of matching gifts as a revenue stream!