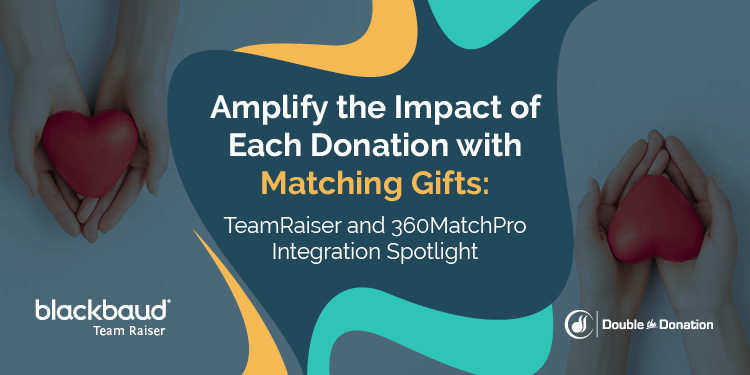 As donors become more intentional in selecting the nonprofits they give to, soliciting donations has become increasingly competitive. When deciding which nonprofits they will support, donors gravitate toward organizations where they feel the impact of their gift will be greatest. Corporate giving and matching gift programs empower donors by making them feel like their donations are more significant. While matching gift programs certainly exist, many donors are unaware of their own eligibility. That means participation rates are low, and revenue is lost. 
The integration between TeamRaiser by Blackbaud and 360MatchPro by Double the Donation will help you quickly increase matching gift participation. This integration will help your nonprofit grow and make your fundraising more impactful.
We detail the integration benefits below!

Inform Donors of their Eligibility Status and Improve Your Match Completion Rate
The first step to increasing your nonprofit's matching gift revenue is making donors aware of their eligibility status. Double the Donation maintains a database of over 20,000 employee matching gift programs. As donors enter their company name into a streamlined search field on the donation page, 360MatchPro scans that database and then can alert the donor if they are match eligible. The smart, dynamic search field suggests potential matches and identifies the employer – even if a donor mistypes their company name or uses an abnormal naming convention. By embedding the search field into the donation page, 360MatchPro makes it easy for your nonprofit to initiate the matching gift conversation.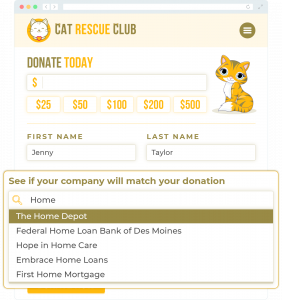 On the confirmation page, donors can then simply access program details and click through to their company's forms and matching gift request materials. This auto-display feature reduces the number of steps your donor has to take to complete the process. That means more matching gift funds will be funneled through to your organization, and those funds will arrive at a quicker pace! 

Automate your Marketing and Drive Results
360MatchPro allows you to segment your donors into groups based on their stage in the gift matching process and customize the communication sent to each of those groups. Fortunately, the software can even automate the process for you, saving you time. While the automation features eliminate extra work for you, 360MatchPro also allows you to use your own logos, voice, and branding guidelines so that every communication is in-line with who you are as an organization. Your donors care about your organization, and they want to feel like you are reaching out to them directly. That's why 360MatchPro's customization features are important and can help you strengthen those crucial donor relationships.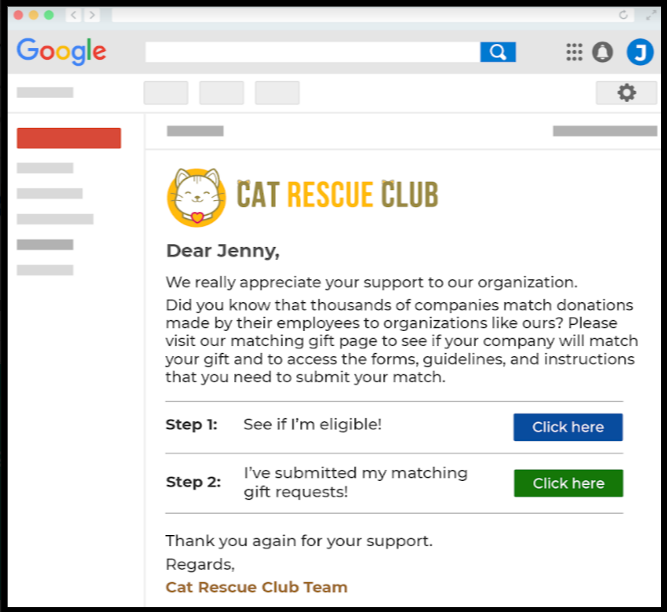 Emailing your donors to remind them of next steps increases the chances that they will follow-through. Additionally, sending matching gift reminder emails results in high email open rates! Whether a donor still needs to provide you employment data to determine their eligibility or has already completed the matching gift process, you will be able to engage with them effectively.

Using Data to Do More and Fundraise More
Since 360MatchPro captures all of this donor information, you will have access to key metrics. You can easily look at your donors' progress through the steps, see how many emails have been sent, and find your organization's total match eligible amount. All of this data appears on an easy-to-read, digestible dashboard accessible to you.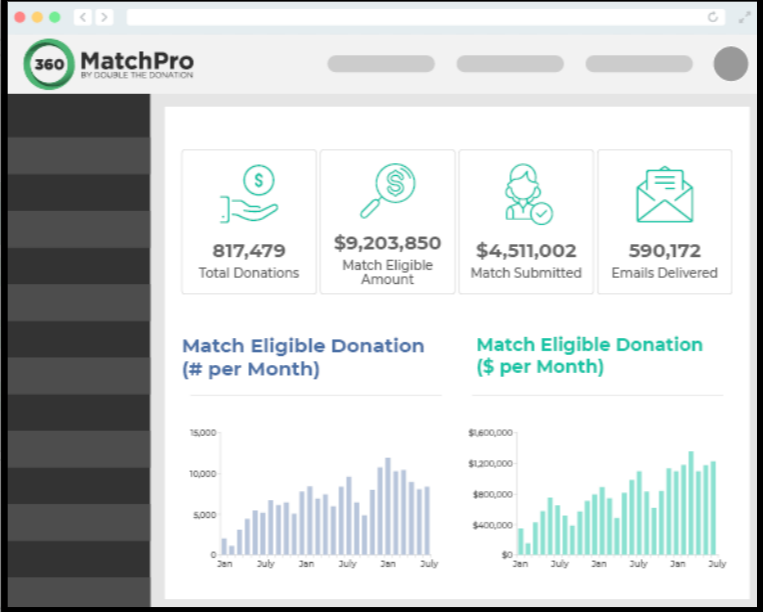 These insights provide value on multiple fronts. For example, by tracking your donors' progress through the matching gift process, you can send tailored communications to try to push them along and drive that process to completion quickly. The more you know about your donors, the more you can engage them. Additionally, the metrics track and quantify your marketing efficiency. As you learn what works and what is not as effective, you can identify areas of improvement and fine-tune your donor outreach. With less wasted resources, you will free up time to focus on other fundraising initiatives. 

Match More Gifts with TeamRaiser and 360MatchPro
The integration will allow you to: 
Determine your donor's match eligibility once they enter their employment data into the drop down search bar so that you can drive revenue

Reach out to your donors and tailor messages sent to them so that communication is quick and effective

Collect important donor data so that you can continuously improve your outreach and maximize matching-gift revenue

And much more!
Schedule a personalized demo to see how the TeamRaiser and 360MatchPro integration improves the matching gift process and benefits your fundraising revenues!