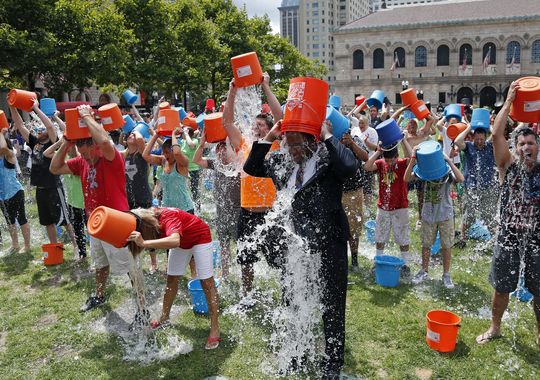 Have you seen the ALS Ice Bucket Challenge? It didn't cross my path until I saw it covered on TSN a week ago as professional athletes were instrumental in getting it started and then it was on TSN again just a few days ago. With the fundraiser gaining steam and attention many are criticizing, praising and drawing takeaways from the success all of which Aine Creedon covers in her post on Nonprofit Quarterly.
What can #nonprofits learn from the #IceBucketChallenge? Wrote in @npquarterly today: https://t.co/hAQPlMEwcv

— Aine Creedon (@anye_east) August 14, 2014
  Her 5 lessons nonprofits can learn from the ALS Ice Bucket Challenge:
The influence of friend networks: Taking the focus away from promoting the organization itself and directing social media campaigns to people connections could bring a new energy to efforts. People of all ages are now using social media to connect with their family and friends, utilizing these connections can be powerful.
Make giving fun: Although being a donor is prestige in itself, people are inundated with giving to charities constantly everywhere – from browsing the Internet to checking out at the grocery store register. Adding a fun new twist to giving campaigns could attract a whole new audience.
Be timely: It's summer, and for a vast majority of Americans it is very hot. If the ice bucket challenge launched in December, would as many people have participated? Probably not. Linking donor campaigns to what current events, holidays, or seasons are happening during the time of year can prove to be very effective.
Video media is powerful: From Vine to Instagram to the media powerhouse Youtube, video and image sharing is dominating the social media scene. Quickly creating a video through mobile technology and syncing it to the web can be done with a few simple clicks, so take advantage of this. Encouraging people to share their experiences through video can make supporters feel more involved as content creators.
Make giving interactive: Being personally called out by loved ones, family and co-workers to step up to a challenge for the sake of charity on a public social network for all online friends to see is a hard offer to turn down. Explore ways to transfer the call-to-action to your participants
Of these the most interesting one to me is the interactive and "calling out loved ones" nature of the campaign. By having a peer make an ask in a public setting/way it increases the pressure on the person to respond or take action.
And while you can't make something go viral or just recruit celebrities and athletes to partake in your campaign, if you make things fun, sharable, personal, public and direct you stand a much better chance of having your message spread.
So as you think about your next campaign don't think about what you can dump on people as that's not what makes this campaign effective but think about those things that can help your campaign be more fun, sharable, personal, public and direct.