"How can we reach more people"
That question is one of the fundamental problems almost all charities face and a fundamental problem my business is attempting to solve using digital. Our client base is small and mid-sized nonprofits (less than $10M) so other mass reach "solutions" like advertising and direct mail often prove too costly leaving the web as the only cost viable option. So my work, and our agency, essentially exists to answer that question of reach with digital tools.
Now that may sound pretty straight forward but it really is not. One of the most useful concepts I've come across that lays out the challenge of reaching people on the web is The Third Circle. I heard about The Third Circle first from Scott Stratten, of UnMarketing fame, when he discussed why some content (mainly videos) spreads and others do not.
The Third Circle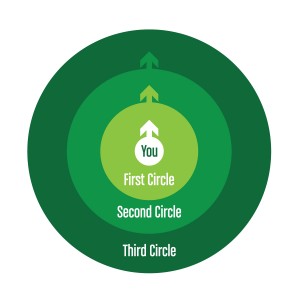 YOU. Share content (video, story, blog, etc.) that reaches the people you immediately know (email list, blog subscribers, social media followers, etc.). These people comprise your…
FIRST CIRCLE. These people know and (hopefully) love you so they may share your content out of their love, passion for the cause, connectedness to the organization or something like that. When they share this content it gets to the…
SECOND CIRCLE. These people are not directly connected to the organization or cause but only through your first circle so they are much more objective in terms of the quality of the content and the value to them (and the greater world). This is where content often stops thus not going "viral" however if these people share the content it goes to the…
THIRD CIRCLE. These people now have little to no connection to the original organization or cause and if they are engaging with the content it has already travelled through many people and many networks.
The Third Circle Challenge
So the question is obviously how can you reach the Third Circle? Scott proposes that it comes down to one thing: evoking emotion. Whether your video, story, blog post, etc. evokes laughter, joy, sorrow, anger, sadness, or makes people laugh, yell, cry, scream it has to do so… hard. A "I chuckled at this" video doesn't reach the Third Circle. A "that was a touching story" doesn't reach the Third Circle. A "a solid blog post" doesn't reach the Third Circle. Awesome stuff, powerful stuff, creative stuff, amazing stuff reaches the Third Circle. So besides creating great and emotion evoking content, here are…
5 Things You Can Do To Solve The Third Circle Challenge
1. Grow the First Circle. You have the most control over the First Circle and if you can grow it then the Second Circle and Third Circle potential also grows.
What does this look like? Collect email addresses (properly) anywhere and everywhere. Choose a social media channel or two and spend the time it takes to grow your following. Write regular blog posts with good content to get subscribers.
2. Fire up (engage) the First Circle. Sometimes the First Circle isn't fired up enough about your organization (or the content isn't good enough) for them to share to the Second Circle. Without a fired up First Circle reaching the Third Circle is virtually impossible.
What does this looks like? Talk to supporters like they are the heroes. Tell them about the impact they are having (tangibly and regularly). Ask them questions and get their input.
3. Make it easy for the First Circle. If you want people to share content make it easy! Many of the client sites we look at don't have sharing easily available! With tools like Share This, Add This and site plugins there's no reason to make it difficult for people to share.
What does this look like? Share buttons, easy to read and access stories, regular content, letting people know what to do and how it helps and thanking/encouraging sharing are all things we can do to make it easier for First Circle people to spread the content on.
4. Make it simple for the Second Circle. What is the story? What are they being asked to do? Who's behind the content? Is it clear? Does it look good? The Second Circle will have less patience with the delivery methods, design and experience of the content so we have to make it simple for them to engage and pass on.
What does this look like? Your home page, Facebook page and key landing pages must be designed well and accessible to people who may not know much about you.
5. Learn about what the First and Second Circle want. Through monitoring conversations and looking closely at what gets more shares, views and "spreads" as well as running some tests when we can, you can better identify the things that evoke emotion and makes content for our clients' circles more sharable. You can then start producing more stories and content in alignment with that.
What does this look like? Measuring shares and traffic with your sharing tool and Google Analytics, using things like Google Alerts and Hootsuite to see when people are talking about you so you know what people share (not just what you think they share).
The concept of The Third Circle is not some mind-blowing concept that will change your organization but it does provide a nice framework and some language on the challenge your organization, like all organizations, face in reaching more people with your message. Good luck!