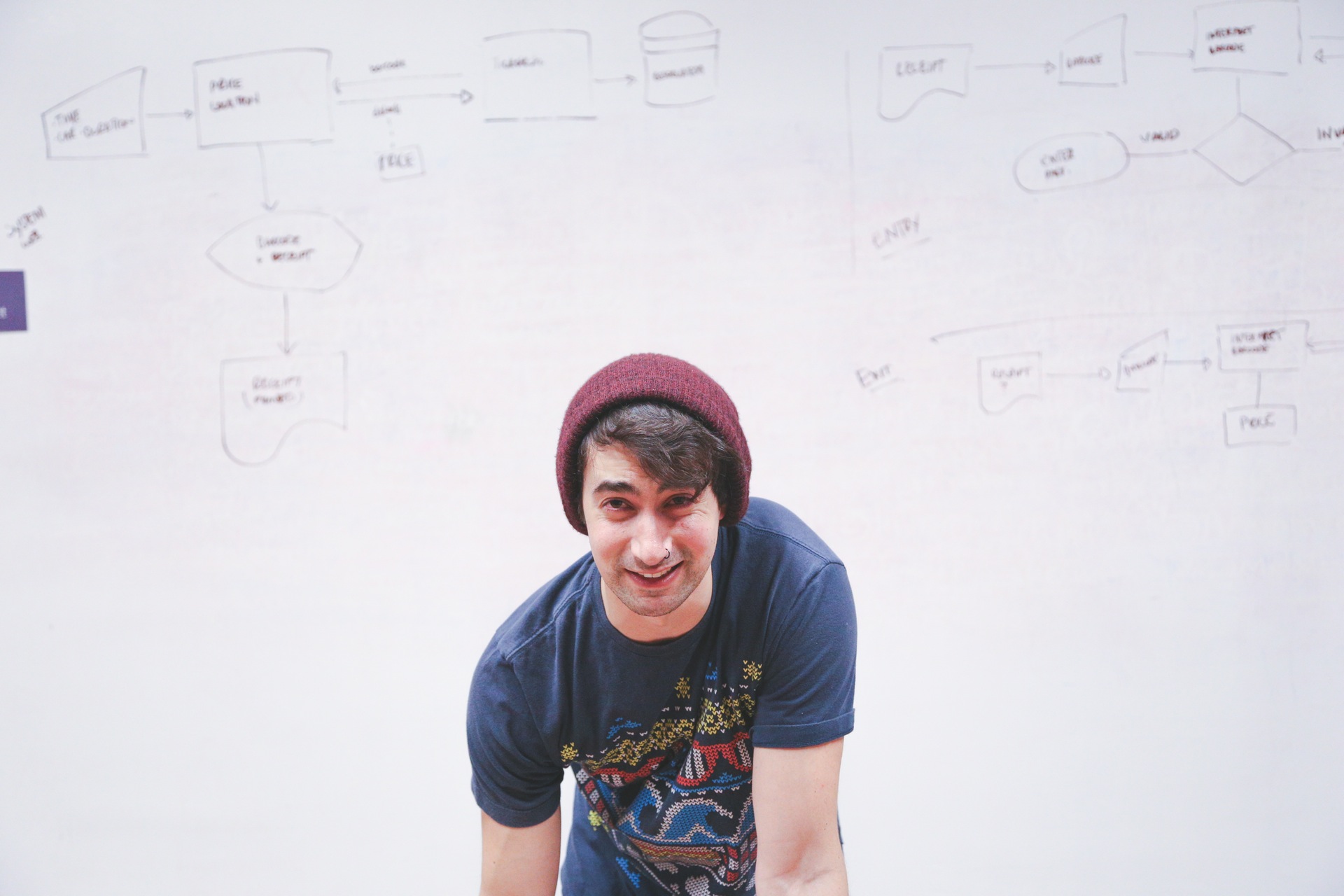 This was my first year attending the Association of Fundraising Professionals Congress – I was an AFP Newb, if you will – and it was really quite an experience. There was a lot of interesting discussions that took place, but as with any good conversation in the nonprofit sector, the topic of those blasted millennial donors came up in almost every single one of my sessions.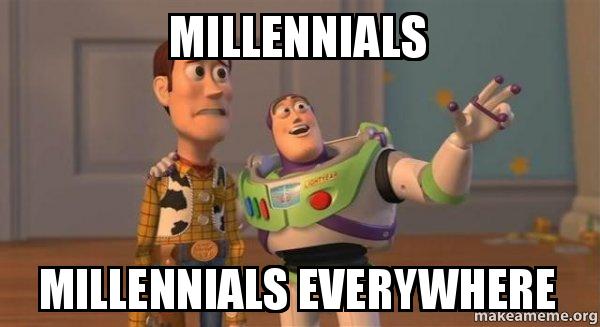 (I apologize in advance for the use of memes in this article – it's how millennials communicate.)
It's an odd thing to be the "something" that everyone else is talking about. I looked around at the rooms filled with mostly boomers and some Gen X as they hummed and hawed about what on earth they were going to do with us.
Nothing unusually unflattering was said – albeit, some usually unflattering, but for the most part people wanted to know how to engage millennial donors because they really do want to – but they just don't quite know how or when to start.
There were some very articulate and helpful insights from the Congress speakers – so here they are with a pinch of my millennial translation to help un-befuddle you.
1. Millennials are the next generation to take up the post of being "civic" donors – like their grandparents.
Opening his session on the future of fundraising, Mark Hierlihy, the President & Founder of causemark reviewed demographic breakdowns in relation to giving personalities. He started with who are commonly known as seniors but are often called 'Civics' in philanthropy – older donors who give because they feel it is their civic duty to give back.
For Hierlihy, the snapshots of the remaining generations were the following:
Boomers: "I give, but not the same as the Civics." (through galas, charity lotteries, etc.,)
Gen X: "What's in it for me?"
Millennials: "Our parents were the boomers, they screwed up the world, and it's our job to fix it."
Gen Z: A bunch of "screenagers"
While these certainly play up some stereotypes (but as a member of a generation stigmatized by Dr. Phil more times than is fair for any one generation I'm ok with it) the interesting nugget here is that after seniors, who are the beloved donors of the sector, millennials are the next generation that has inherited the desire to give because of civic duty.
This simply means you should be taking millennial donors seriously – acquire them early, work to build up loyalty, and tap into their desire to do something good for the world.
A common discussion in the sessions I attended centred around the ROI in engaging millennial donors. There is a widespread belief that millennials do not have enough net worth, and do not give enough, to be worth the cost of engaging with them.
I understand the hesitation – most of what we hear about millennials is that they are saddled with university debt (because who in their right mind invests in a philosophy degree – oh right, me), that they are still living at home working multiple coffee-shop jobs, and that they simply do not have the spending power that the older generations have.
These stereotypes have resulted in some pretty hilarious "Old Economy Steve" memes in typical millennial pay-back fashion:
But many speakers pointed to a very different reality. Worldwide, millennials donate 6.2 billion a year, and there are 3.4 million millennial donors in Canada alone. On average, millennials give $639/year – not a far cry off from Gen X who generally experience greater financial stability and who give $835/year. Those coffee shop workers with philosophy degrees sure are generous.
The "Next Generation of Canadian Giving" breaks down giving data for each generation: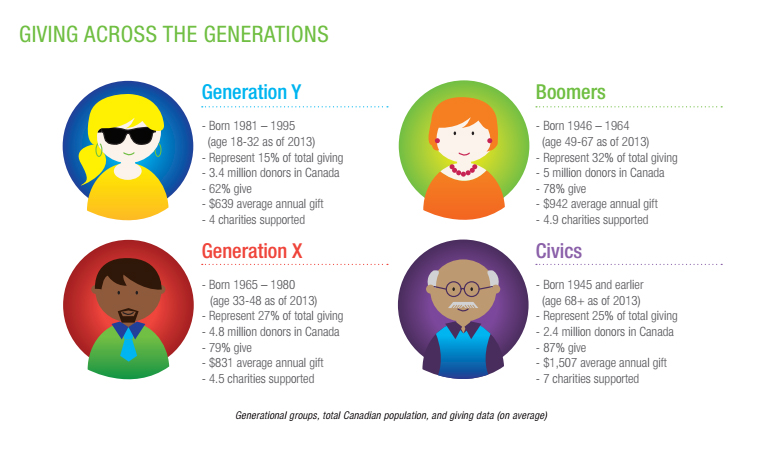 Millennial giving stats should be taken with a grain of salt, as suggested by a few at AFP, because their gifts are often not tracked via tax receipting. Millennials like to donate in less traditional ways – through crowdfunding and supporting friends' initiatives – and this is often not followed up with a formal tax-receipt process.
I can speak to this because I am getting my first ever charitable tax receipt this year because of a workplace campaign, despite having been an active donor for a variety of initiatives since my early teens. So the stats we have on millennials are very likely doing an injustice to their already-impressive giving levels.
3. Millennials want to fundraise for you (coolest donors ever)
What more could you ask for? While civic minded in their giving, millennials aren't content like their grandparents were in cutting a cheque and hearing from you on an annual basis about where their money went. They want in on the action – and better yet, they want to be the driving force behind it.
In a world of connectivity and digital personas, philanthropy has become a social currency exchanged between millennials. The easier (and cooler) you can make it to fundraise for your organization, and share their good deeds, the more uptake you'll get from this generation.
The gold standard in tapping into this style of giving is charity:water with their easy-to-use platform and endless fundraising opportunities – made most popular by donating birthdays so people can have clean drinking water.
[vimeo 38102114 w=800 h=450]
Birthdays can change the world // a story from charity: water fundraisers from charity: water on Vimeo.
Creativity, authentic experiences, and clear tangible outcomes are top on the priority list for millennial campaign development – peer-to-peer fundraising, designated giving opportunities, and crowdsourcing are favoured vehicles. What all of these mediums have in common is that it allows donors to feel in control of the process, while allowing them to see and understand the immediate impact of their gift.
What remained clear throughout AFP was that millennials are your best next bet after Civics to find donors who will champion your cause and wear it as part of their social identity. Millennials have all the right ingredients to fill in the gap the Civics will leave behind in the charitable sector, and while they might not be worth as much as other donors today, they will be soon. And they won't wait for you – so you better get started.
(….ok one more)