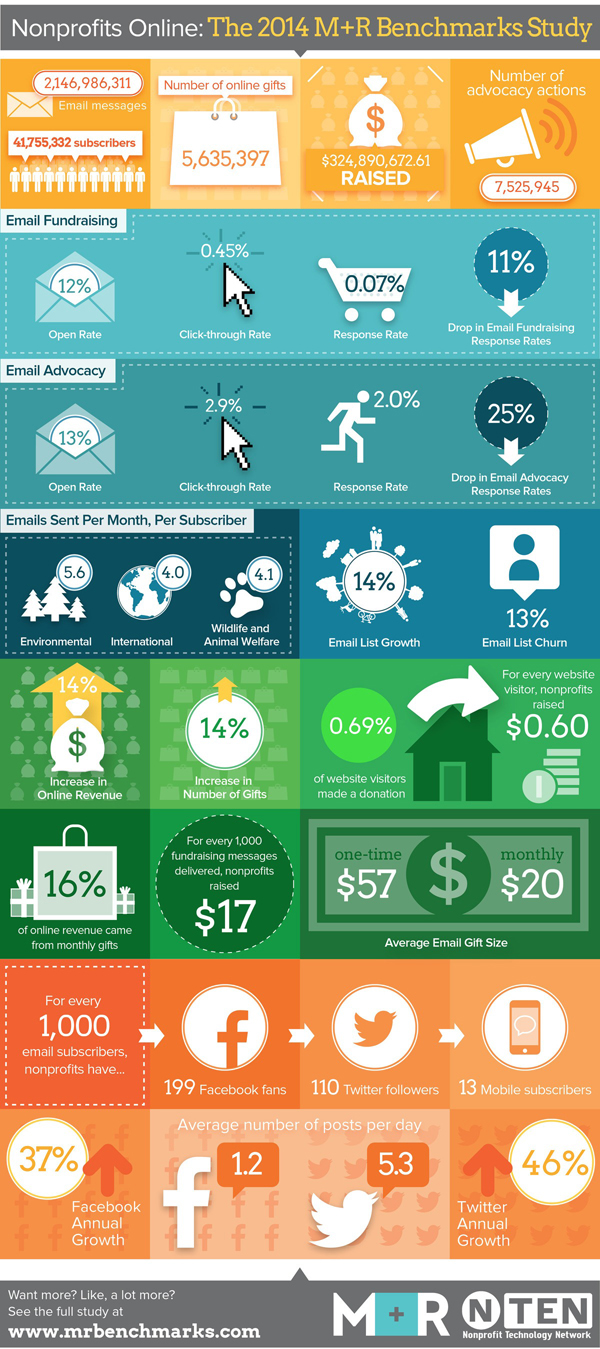 It's one of my favourite times of the year. Baseball season is starting. The sun starts coming out. Trees are in bloom. And nonprofit benchmarks come out! One such study comes from M+R and NTEN (infographic above) with a focus on larger organizations and online fundraising, advocacy and list building.
Joel from Peer Giving Ideas has a good recap with 4 main points.
1. If You Ask, They Will Give.
Conversion rates stayed flat even as appeal number increased. This does not mean that you should just hammer your donors inboxes with appeals but it does mean you can probably ask more frequently via email than you may think.
2. People Like Emails.
As email frequency goes up, unsubscribe rate actually goes down. This seems counter intuitive but it shows the need for clear, frequent communications and let your donors/users make up their minds on whether to unsubscribe or not. The temptation is to "save your emails" for only those most important but unless they know what to expect from you there's a good chance they won't open that important email.
3. Timeliness Matters.
What day should I send an email out on? It doesn't matter. Your headline, content and frequency all play much bigger roles in open and click-through rates and, as Joel points out, timeliness and relevance to events (an eBlast about a natural disaster right after a natural disaster) are the top performing emails (just don't be irreverent).
4. Many Emails, Few Donations.
The average return per 1000 emails is $17. Joel found this a bit low and he does point out that medium-sized charities (and most likely small charities) have larger averages. Again here, this simply reflects the need to a) focus on building a larger and larger list and b) sending out emails more frequently.
The post on Peer Giving Ideas also points out some key and interesting stats from the benchmarks study:
Email lists grew by 14%
Email accounts for about ⅓ of online fundraising revenue
Online giving increased 14%
Monthly giving increased 25%
Average one-time gift size online: $104 ($57 through email)
Average monthly gift size online: $23 ($20 through email)
NTEN provides a nice simple recap of the report in a post here and outlines 8 emerging trends they found:
The average one-time online donation amount to a nonprofit was $68 in 2013.
Nonprofit organization email lists grew significantly – up 14% in 2013.
Online donations were higher than ever before. Online giving was up 14% in 2013, with monthly giving revenue up 25% compared to 2012. Monthly giving accounted for 16% of all online revenue.
Nonprofits received $17 for every 1,000 email messages delivered. Overall, email accounted for about one-third of nonprofits' online fundraising revenue.
Nonprofits received $0.60 per website visitor.
Key email metrics, including open rates and response rates, declined in 2013. Email open rates were down 4%. Response rates were down in 2013 for both fundraising emails (down 11%) and advocacy emails (down 25%) compared to 2012 levels. Interestingly, the response rates to advocacy emails from Environmental nonprofits were more than two times higher than overall response rates for advocacy emails.
More people visited nonprofit websites. Monthly website traffic for the nonprofits in the study was up 16% in 2013.
Nonprofit social media audiences grew faster than nonprofit email or website audiences. Facebook fans were up 37% and Twitter followers were up 46% in 2013. Despite this rapid growth, for every 1,000 email subscribers nonprofits had just 199 Facebook fans and 110 Twitter followers.
You can download the full report here. Download The Report