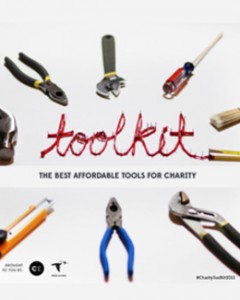 Are you looking and doing more email communications but don't know good tools? Maybe you want to update your CRM but don't know where to start? Or perhaps you're interested in just finding ways to work faster, smarter and better? Well have I got a charity toolkit for you!
In my work with Charity Express and now Peer Giving, I get to meet with hundreds of organizations, hear their struggles and questions and understand their challenges. Often, the problem or potential solution revolves around a tool or technology but a lot of people and organizations don't know where to start. That's who we built our 2013 toolkit for.
It won't answer all your questions or cover every tool under the sun but we picked some of the most asked for areas, gave our input and assessment as well as some information on the product, price and use. You can download this wonderful toolkit here.
Did we miss out on a great tool? Are we missing a section? Leave a comment, Tweet me or shoot me an email as we are always updating our list of products and categories to make 2014's toolkit even better!